Cnc Shark HD4 Review: Is It The Best Cnc Router For You?
Please be aware that while I am reviewing the CNC shark hd4 review, it has since been replaced by the CNC shark hd5 version here. (Which is a good thing as you will come to read.)
But it begs the question, "Why review it all these years later?"
I did it simply if someone was looking to buy a used machine. If this was the case, they would be able to make an informed buying decision.
After all, as it came with a $5,000 price tag new, it was a pretty significant investment.
Next Wave Automation is a company that specializes in designing and building affordable yet high-quality CNC machines. They released this upgrade back in 2016, the HD4 model for those looking to make cuts with more accuracy than ever before!
The Shark HD4 upgrades the previous model that offers several improvements. It features a reinforced gantry and rigid aluminum table for increased stability and easy mobile tool mounting capabilities with lots of storage space on board!
The machine is equipped with a touch screen pendant controller and offers an auto-alignment function. It also has X & Y homing capability, which allows you to use it for different material types like metal or wood sanding projects.
The increased cutting area makes it perfect if you're working on bigger projects in your home shops.
So let's get into this!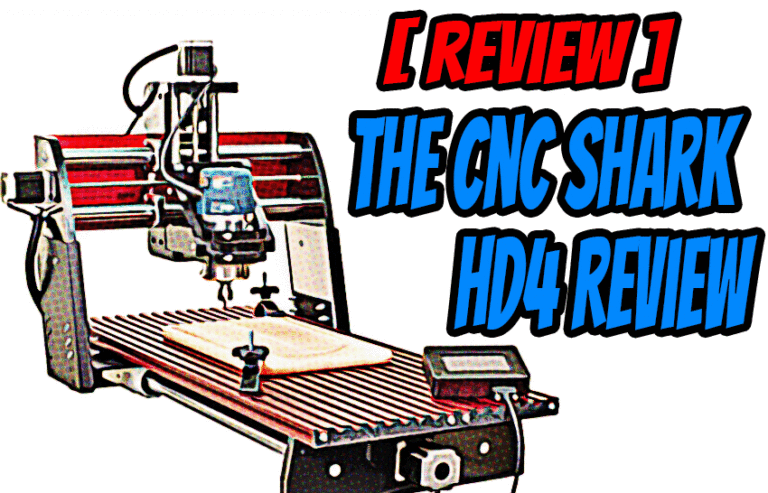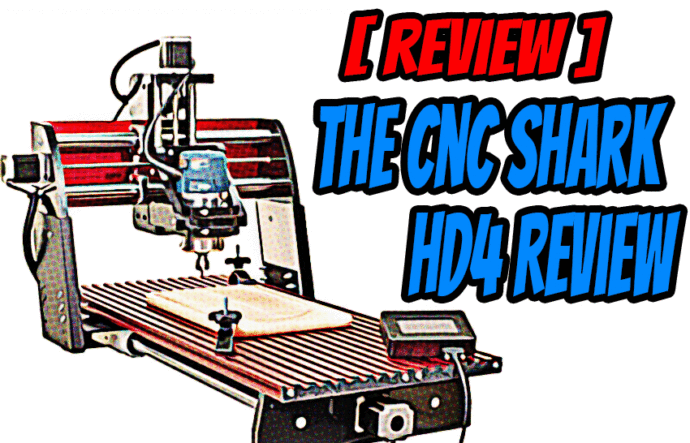 Advantages
can cut many different types of material

the machine is more rigid, meaning you can cut more material per pass than older models

increased accuracy due to its increased rigidity

very easy to set up and run
Disadvantages
it's very noisy when running

many users have complained about the pendant controller not working

it's a hefty machine, and the overall footprint of the machine takes up a lot of room

some users say that due to the machine's layout, the X and Y axis are backward when it comes to designing parts in VCarve and then cutting them

many have complained (back in 2016) that the company had poor customer support
Machine Specs
Upgradeable option to a 2 horsepower water-cooled spindle with a max RPM of 24000

The spindle collet is an ER-11

The cutter shank diameter the spindle accepts are ⅛-inch & ¼ inch

The effective working area of the machine is 25″ x 25″ x 7″

The machine is controlled by a touch-screen pendant controller

You connect to the machine via a USB drive

This machine uses VCarve Pro & the Vector Art 3D sampler pack

The overall footprint of the machine is 36.25″ x 63″ x 24.5″

It weighs 187 pounds (84.8 kgs)
Machine Design
At first glance, you notice that the HD4 features pretty rugged construction. The gantry is made from rigid aluminum to reduce flex while saving weight.
And the bed features multiple t-track aluminum extrusions for clamping.
The machine has been designed in such a way to try and increase rigidity to prevent any sort of flex or extra movement.
This makes a huge difference when cutting hard materials.
The Next Wave Automation T30506 water-cooled spindle uses an ER11 collet which lets you use router bits with either a ⅛" or ¼" shank. The brushless motor and 2HP mean it's powerful enough for most projects.
But some users found that the spindle is so heavy that it often drifts/drops down until its collar sits on the tabletop once you turn the machine off.
Instead of using a spindle, you could use other 2 HP routers from Porter-Cable, Bosch, or Dewalt. (Depending on the model, you may have to manually turn on the router compared with a spindle motor.)
The Shark HD4 is a large, heavy, and robust machine that will require at least two people to move once it's fully assembled. It has an overall dimension of 36.25″ x 63″ x 24.5″, so make sure you have enough space for this in your garage or workshop!
The Performance & Speed
Most CNC machines can hit within 0.005″ of an inch out of the box. And while the company has said it can be down to 0.001″, you're never going to get there.
Having worked in a machine shop with precision machines, once you try to get below the 0.005″ mark for part tolerances, many other things come into play, like ambient room temperature.
But that said, most machines can hold 0.005″-0.010″ tolerance range pretty well.
And any range around the 0.005″ mark will be just fine for most carving.
The high accuracy of the CNC router makes it ideal for cutting intricate shapes or projects which require detail-sensitive work.
It can also produce good results when working on other intricate tasks like making inlays or 3D carvings from various materials like plastics, wood, or soft metals (IE not steel).
If you can add a laser engraver module to any CNC machine, it really ups your game. It allows you to engrave intricate designs and cut fine details on thin materials.
The laser can get really intricate where the router can cut thick materials and carve 2.5D designs.
The cutting speed of this thing is pretty fast too.
You can quickly fire up the spindle to 16,000 RPM, use a 30″ per minute plunge rate in ¾" thickness wood at a 7200″ per minute feed rate, and it will finish the job in under one minute.
This makes it a little faster than most machines in its price point.
The Working Area of the Shark HD4 CNC
The CNC Shark HD4 work area is almost four times bigger than the standard X-Carve model.
Coming in at a working area of 25″x25″x7″, this means you can cut more parts from large pieces of wood and even carved panels in just one go.
The working bed is made from thick aluminum to keep everything flat and rigid.
The software even uses a mapping feature to scan the surface to make & make minor adjustments for any imperfections.
The bed is a full T-slot tracked bed, so you'll have almost unlimited numbers of clamping positions for your workpieces.
And clamping is extremely important as keeping your workpiece in place as you cut will ensure your parts are cut accurately.
Since the clamps take up some space on your table, you might not have as much leftover for milling. The clamps could get in the way of the router as it cuts. So this can really limit the thickness of the material you can cut!
The unit automatically detects and measures the workpiece, then it locates were to start a tool path. The programming makes sure you don't have any issues with bowed or distorted pieces, so your cuts are always accurate.
And this is an extremely nice feature.
Materials You Can Cut
The Shark HD4 is a versatile router that can handle any project you throw at it. It's built with an aluminum table, robust gantry, and steel shafts, which give the machine stability during heavy cutting tasks like those on hardwood or laminate projects. Its thick lead screws ensure smooth operation even when using larger routers (if you aren't using a water-cooled spindle).
Because it's so rigid, it allows you to cut soft metal like aluminum, bronze, brass, or copper.
Of course, you'll have no problem cutting hardwood, laminate, or plastics as well.
How Easy Is the Shark HD4 CNC to Use?
The CNC Shark HD4 is easy to use because all the controls are in one place. It has a touch-screen pendant that saves space, so you don't have to connect a laptop or have a huge control box mounted to the side of the machine.
The interface of this machine makes it simple to learn and use for beginners.
You can manually jog the machine in any direction using the pendant. Or you can use the pendant to home the machine.
Despite being simple to operate, some users complain that the pendant stops working after a while. In this case, it might enter different modes, jog the wrong axes or have the touch screen not work at all.
This said, however, since this machine also comes with an additional spindle controller, you can control the machine from a laptop if necessary.
The pendant can tell you what the tool is, and after finishing its first task, it returns your spindle back into the original home position.
It keeps running, though, so you have to manually shut it down from the spindle controller.
What Software Does it Work With?
The Shark HD4 3D Printer comes with more than VCarve Pro design software. It also includes a Vector Art 3D sampler pack and the popular CNC machine NASTRAN, cut in 2d or full immersive three dimensions (HD). With these tools at hand, you will only be limited by your imagination!
The software is easy to learn, and there are tons of videos on YouTube if you get stuck.
And the software is compatible with 3D modeling programs like Fusion 360 or Sketchup.
The only major downside to this product is that it's not compatible with Mac or iOS operating systems.
You'll have to be running a Windows 7 machine or newer.
The good news? You can get around this by using the pendant instead! Simply plugging it into any USB port will do just fine.
The g-code generated by the VCarve Pro software needs to be saved on a USB drive and then transferred to the pendant on the machine.
There isn't any preview mode, so make sure that your Gcode is correct before transferring your design.
Assembling the Machine & Customer Support
It is a simple process to install the unit. You need only attach the gantry and base, install the spindle motor or router and then calibrate the bed to make sure everything is completely flat.
The next step will be registering with their website to provide you more support if needed!
If you're running the spindle motor, make sure you've got a bucket of water for it to make sure it doesn't run dry and overheat.
How loud the machine is will depend on whether you're running a router or a liquid-cooled spindle, with routers being much noisier.
That said, the machine tends to make a lot of noise on all three axes from time to time. Some did report that they heard an uncharacteristically high-pitched noise coming out of the Z-axis, but it wasn't a constant thing.
If you run into issues, you'll have to contact Next Wave CNC.
Now, back in 2016, their customer support wasn't good. But since then, they've improved considerably.
They have grown a very active community at cncshartalk.com.
They've got lots of helpful information from other users and support staff there.
And this is really helpful, especially as you can upgrade your machine with extra tools like a laser cutter, 3D printer, or a 4th axis.
Overall Thoughts
The CNC Shark HD4 is a professional-grade machine with the power to deliver high-quality work on any material. It offers enough space for large projects and can be used in both commercial or industrial applications that require rigid machines capable of delivering almost perfect results every time.
With that said, I would be concerned about the pendant controls with these units.
Some people have complained about how the dust control system was attached, but it wasn't something that was complained about as much as the pendant.
So if you're looking at buying a used unit (as the Shark HD4 CNC is no longer in production), you should keep this in mind.
If you end up having to buy a new pendant from them, it can set you back about $230.
---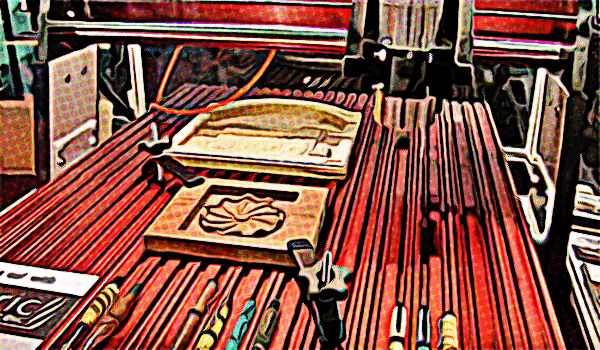 When people were searching for a cnc shark sh4 review they often looked for these topics as well:
What type of cnc router do I need?
You can upgrade to Next Wave's T30506 water-cooled spindle. Or you can use a 2 HP router. Popular models include: Dewalt (series 610, 616, 618), Porter-Cable 890, Bosch 1617 & 1618, or the Porter-Cable 690.
What a cnc router machine is, but why do we need one?
A CNC router machine is a computer-controlled cutting tool that can be used to create detailed designs and shapes in various materials. They are often used in manufacturing and woodworking contexts but can be adapted for various purposes. CNC router machines are valuable because they allow for intricate and precise cuts that would otherwise be impossible by hand.
Why not use a hand-held router?
There are a few reasons why you might want to use a CNC router instead of a hand-held router. CNC routers are more accurate and can produce more precise cuts. They can also work with a wider variety of materials, including more complex materials like wood, plastic, and metal. Finally, CNC routers are typically faster and more efficient than hand-held routers.
What is a cnc router?
A CNC Router is a particular type of computer-controlled machine tool.
A CNC (for Computer Numerically Controlled) router is a computer-controlled machine tool that cuts and shapes material such as wood, stone, foam, plastic, or metal by moving the material through itself using motors powered by an electric wire. This process is called "routing." The machines use G code programs to determine their bits' exact positions and speeds and cut different shapes into various materials.
Are shark CNC machines good?
Yes. Shark CNC machines are an excellent choice for anyone who needs flexible manufacturing solutions, as their measurements range from 10″ x 12″ to 20′ x 80′. They're one of the most complete lines of smaller tabletop routers on the market, and that's why they're a smart choice over competitors with less power and larger footprints.
Who makes CNC Shark?
Next Wave is the manufacturer of CNC Shark.
What can a shark CNC do?
A shark CNC can perform a variety of tasks, including:
Milling

Drilling

Cutting

Engraving

Laser engraving

Routing
Where are shark CNC made?
The Shark CNC is made in the USA.
Where is Next Wave CNC located?
Next Wave CNC's offices are located in Perrysburg, Ohio, a suburb of Toledo.
What software comes with CNC Shark?
The CNC Shark comes with the software vcarve pro. Vcarve pro is a powerful software that enables you to create various projects, including 3D designs. With vcarve pro, you can easily convert your designs into G-code files that the CNC Shark can use to machine your projects.
How is the CNC shark hd4 extended review different from the regular one?
The only difference between the CNC shark hd4 and the extended version is that the extended version has a longer bed up to 63" long.
The cnc shark hd4 extended bed with laser module review
Next Wave's laser modules are perfect for cutting and etching on materials like wood, metal- all sorts of different surfaces. These high-quality optics deliver incredible depth in every use; however, they're not designed to cut through any material other than plastic or acrylic (nonconductive).
They're simple to use – you just put the laser module into the cnc chuck like you would any router bit.
For more about lasers and the best laser cutter for small business read our article here.