The Best CO2 Laser Cutter – What to Look for in your search for the best laser cutting machine
Possibilities are endless with a laser cutter/engraver! You can make a lot of things with an engraver, decorations, toys, gifts and advertisements. You can even design and manufacture an amazing personalized charcuterie board with handles. However, not all laser cutters are the same. Today, we talk about CO2 laser cutters, a category in which a variety of machines are available. CO2 laser cutters are highly precise instruments that help inscribe and decorate or make custom designs on wood, paper, acrylic, plastics, metals and other materials.
These machines have revolutionized the personalization of items and enabled artisans to create eye-catching designs through custom engraving. The CO2 laser cutter machines etch patterns and text into any material or cut them to high precision shapes. The laser beam engraving technology guarantees optimum precision, making them greatly popular among decorators and artists.
To help you select the right CO2 Laser Cutter for your requirements, we have reviewed some of the best machines available in the market. If you'd like more information still, you can also see our article "The Best Laser Cutter for Small Business".
The Best CO2 Laser Cutter Review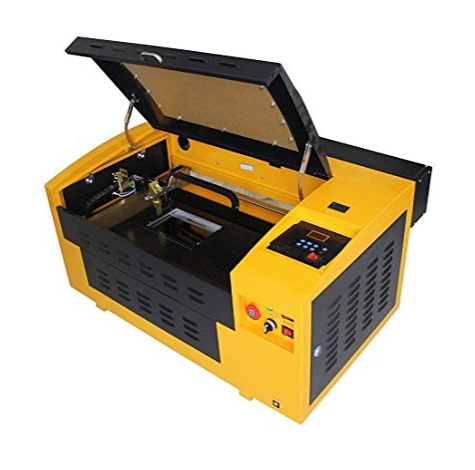 A mid-range laser cutting machine with a lot of features, the Ten-High 40W comes with tutorial videos and installation guides for easy setup and use. The CO2 laser engraver comes equipped with its own software but it is possible to use external platforms like CorelDraw. The built-in, high-performance software makes it really simple to manipulate the machine. It is compatible with Windows desktop and multiple operating systems.
The 40W machine features free cornering and g-code. It also offers controls like water temperature, red light positioning, electric lift, temperature and communication monitoring. The machine makes use of a water cooling system. It offers a cutting speed of 3600mm per min and engraving speed of 3000 mm per min.
Considering the cost and engraving surface, this machine is one of the best options available. The resolution ratio of 0.026 mm allows engraving any design without having to compromise on precision. It is suitable for most organic surfaces including leather, plywood, wood, glass, paper, cloth and more. USB interface makes the machine more user-friendly. Click here for current pricing.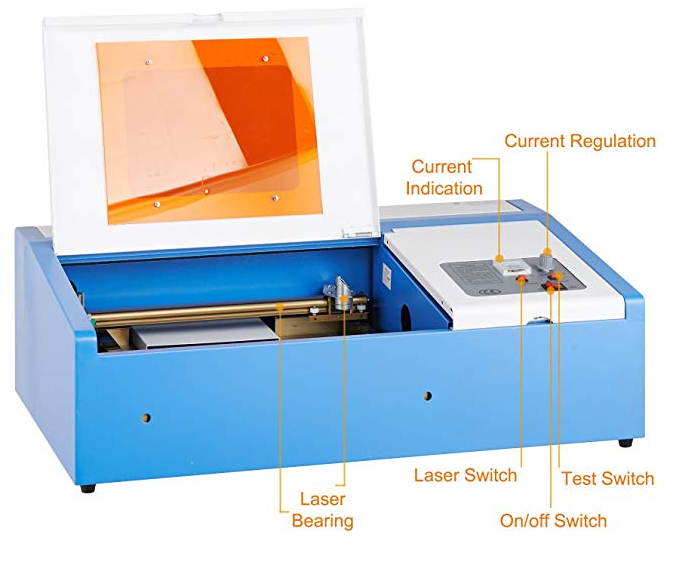 Featuring a box-like construction, the Orion Motor Tech is a user-friendly laser cutter for home users and hobbyists looking for cutting and engraving works. It works perfectly for non-metal surfaces and has predrilled holes to make future upgrades possible. You can use this machine to cut and engrave on most materials including glass, rubber, acrylic, bamboo, crystal, wood and stone. Water-break protection provides enhanced safety.
The CO2 laser cutter includes a ventilation fan for extraction of fumes and smoke and high-quality CNC parts impart better durability. The resolution of this engraver is 1000 dpi and the working area is 12 x 8 inches. It is one of the most affordable engravers ideal for DIY enthusiasts and small businesses. To see current pricing and availability, click here.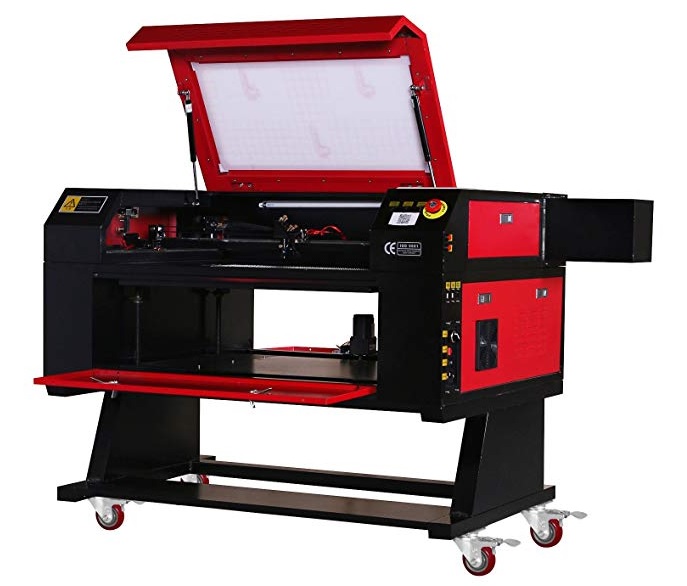 With an excellent engraving surface and unlimited length design, the Morphon 80W machine suits DIY projects, small businesses, shoes, toys, gifts and semi-industrial applications. It comes loaded with innovative features like USB interface, offline control system and an LCD display. It offers a resolution of 1000 dots per inch.
As compared to other CO2 laser cutters, this machine is quite versatile with its ability to address a wide range of applications including small and big crafts projects. The CO2 laser cutter features a DSP control system and supports a wide range of software including AutoCAD and Photoshop. Morphon 80W laser cutter comes with a cooling system facilitating all-day use. It performs laser cutting as well as engraving.
The CO2 laser cutter from Morphon has a position accuracy of 0.01 mm and maximum speed of 1000mm per second, making it simple to add details to decoration. It also allows adding extra parts to enjoy additional features like adjustable worktable, autofocus, red dot functionality and others. To see pricing and more detailed specs click here.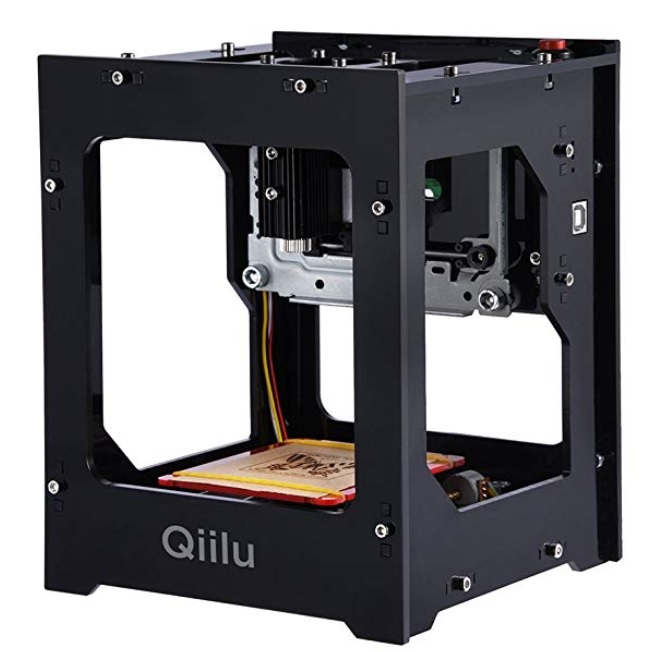 Providing an excellent value at affordable price, the QILU Mini laser cutter is ideal for small projects that require cutting and engraving. It is a low cost, high-quality machine that features a powerful cooling fan and an adjustable laser head to keep the projects safe. The CO2 laser engraver complies with computers, mobile devices and multiple operating systems, making it a highly user-friendly, versatile tool. Installing and using this equipment is quite easy and straightforward.
However, the machine allows cutting and engraving for DIY tasks and small-scale businesses that involve materials like wood, plastic, leather and rubber. It cannot be used to engrave hard surfaces like glass, metal or stone. It offers an engraving area of 4.2 x 4.2 cm.
The QILU Mini CO2 laser engraver features an interface that facilitates easy adjustment of laser intensity and suits DIY projects and decorations. The laser beam has a wavelength of 405mm and a carving accuracy of 0.05mm. It also features a lithium-ion battery that lasts for up to three hours to help you continue engraving in case of power outages even when connected through USB or Bluetooth. To see it's current availability, please click here.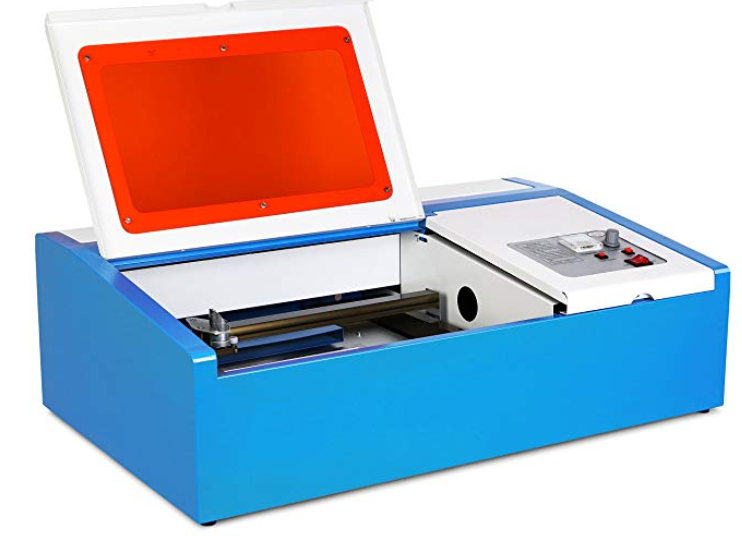 Designed to suit applications like advertisement, seal engraving, computerized embroidery, gifts, toys, garment sampling, furniture, shoemaking, nameplates, woodwork and others, the CNCShop Laser Cutter is a lightweight and portable machine with an engraving surface of about 300 x 200mm. It features a 40W CO2 gas laser tubing which runs at 1000 to 1300 hours.
The machine runs through a stepper motor with water pump providing precise engraving. The instrument works on CorelDraw software that enables you to work on different materials like paper, plastic, canvas, bamboo, crystals and more. Reinforced and thickened machine body makes it easy and safe to transport the machine.
It is an entry-level laser cutting machine with features worth its price. It cuts and engraves intuitively and works with a variety of materials. It is easy to install and use and requires some practice to master. To see current pricing, click here.
Suitable for a wide variety of surfaces, these entry-level laser cutters working on CO2 gas tubing serve cutting and engraving requirements for DIY decoration projects and small machine shops engaged in manufacturing custom parts. Do share your thoughts about laser cutting machines in the comments section below.