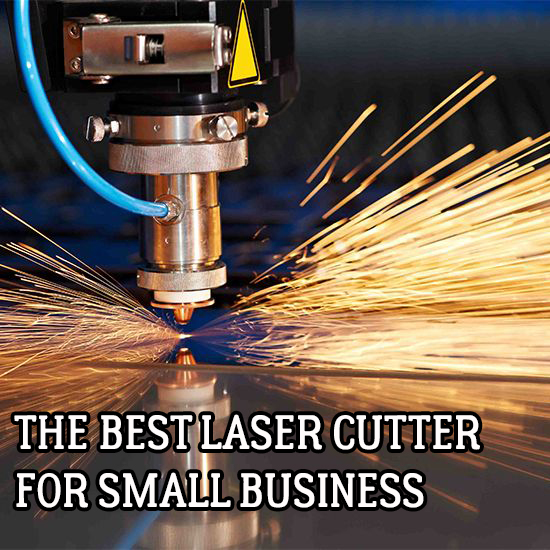 The Best Laser Cutter for Small Businesses – DIY to Pro [UPDATED for 2022]
Looking to find the best laser cutter for small business?
Then this review guide will help!
After all, personalized gifts are always trending. It is a nice idea to get a laser engraved gift item like a beautiful pen with a special message for somebody. Or you could have some custom engraving done on jewellery to really make your gift stand out.
Laser cutters & engravers are excellent tools for both hobbyists and professionals, and can really help your product or gift stand out.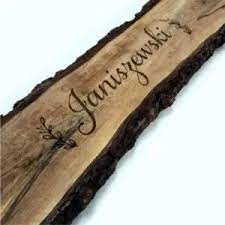 As a sales add on, any form of personalization is a nice little upsell that adds straight to the bottom line.
These laser cutting machines, when connected to a computer, work much like a printer and create intricate, accurate etching and engravings depending on the designs you have created. These machines generally work with modern graphics editing software like CorelDraw and CAD software.
They are versatile and let you work with a wide range of materials like metals, wood, plastic and even glass. The choice of your laser cutter can vary depending on the material you plan working with most frequently.
Let's look into some of the best laser cutter options for small business and hobbyists.
Now, you can't cut metal but you can etch onto anodized aluminum.
Another nice feature is that it has cameras inside it that will create a 3D image preview so you get a idea of what the final design will look like.
The laser cutter is great for any small business looking to customize their products without having to invest in expensive equipment that they may only use once every few months.
Overall, this is a great all around laser cutter that is very user friendly.
The Best Laser Cutter for Small Business Roundup Review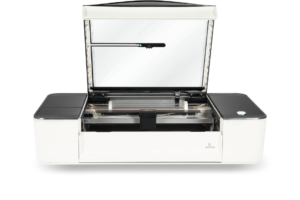 When you first see the Glowforge Plus 3D Laser Printer, it might look like any other desktop printer. But this smart machine has some interesting tricks up its sleeve!
The design of these printers is always on-point and they're great for reliability. They really are a nice balance between style and fuction.
The Glowforge is a CO2 laser cutting and engraving machine that operates at 40 watts, but can cut over 1300 lines per inch.
This impressive tool is better suited for small businesses with light workloads, as it just won't stand up to constant us in a production environment.
But it's great for a small business or someone doing one-off type projects.
The Glowforge is 3-foot long and 2 feet wide printer, so it can fit almost anywhere with such a small footprint.
And with some maneuvering, you can print on materials up to 2″ thick.
It also includes a vent but you will want to upgrade that.
Cutting anything with a laser requires an excellent ventilation system.
So make sure that whatever you buy has it's fumes piped directly outside.
The Glowforge laser cutter is a great option for those who want to cut their ideas quickly and efficiently. It only requires 30 minutes of setup time, even if you have never used one before!
The user interface makes it easy-to-use with simple drawing functions
With sensors designed specifically in this product so users know what settings will work best depending upon type of material being used.
This all comes together in a way that makes running the laser fairly easy for new users.
Click here for current pricing & availability.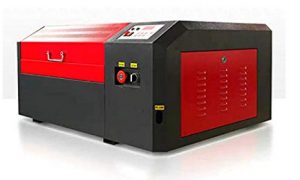 This laser cutter is a nice self-contained unit. It's able to both cut and laser engrave many different materials. This gives you a lot of versatility. Whether you're cutting wood, plexiglass, steel, aluminum or other things, this little machine can do just about everything.
It can engrave as deep as 2mm, and it can cut as thick as 5mm. Of course this depends and varies on the thickness of the material. But for most uses for such an inexpensive cutter it's a fantastic start.
The working area of the machine is 400mm x 400mm and it's compatible with Coreldraw.
For more information on the Newline click here.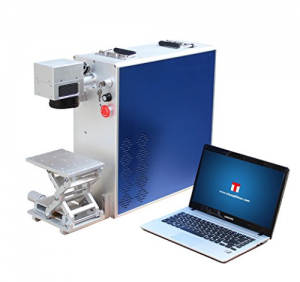 Compact and portable in design, the machine adopts third generation, solid-state fibre laser to provide super fine marking effect. It comes with an integrated fibre laser source that is reliable and maintenance-free. and is a developed to address large quantity marking on small to medium sized parts.
It can be used to mark data plates, USB sticks and pens in just a few seconds. The software supports all the standard file formats and you need not work with any programming languages to start using it. You can use any content including letters, graphics, barcodes, etc.
The marker machine is used widely on metallic and non-metallic surfaces to create permanent marks. Rotary attachment makes sure you can work with any cylindrical material for engraving.
Now, this is significantly more expensive than a hobbyist machine, but you're getting into a machine that's more on the small business side of things.
For more detailed specs on this, click here.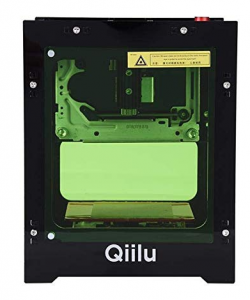 A budget laser engraving machine, the Qilu 1500MW has a multi appeal that allows setting it up and using with various operating systems including Windows, iOS and Android. Multi-language software support is available in German, Chinese, English, Japanese, French and Italian.
The ability to use the cutter with computers, mobile devices and other devices makes it a highly versatile tool. It also comes with Bluetooth and USB connectivity. It can handle surfaces like plastics and wood and is an excellent choice for DIY enthusiasts and small businesses. For more information on the Qilu click here.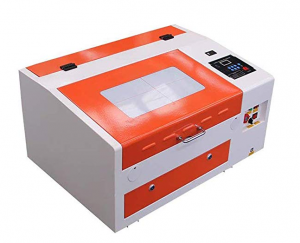 A great option for advanced DIY enthusiasts and small manufacturers, the Ten High engraver helps engraving logos and designs on a variety of products. The machine has sufficient power to work on most materials except metal. It can even work on metallic surfaces with some coating. It is compatible with Windows PC and connects using USB cable.
To enable working with curved surfaces, the machine provides the option to fit a rotary axis. It offers an engraving area of 15.7 x 11.8 inches and a speed of up to 30,000 mm per minute. This engraver is an excellent choice for something that sits between affordable and professional-grade laser cutters. For current pricing and available discounts, click here.
Final Thoughts on the Best Laser Cutter For Small Business Review
Whether a laser cutter is at the core of your business or just an add-on to provide extra value, these machines are incredible.
They can make jigs and fixtures. you can make finished parts. They can even engrave and add more value to existing parts.
But we've reviewed some of the best laser cutter for small business. And the ones we've shown can get you started – even if you have a small budget.
If you're looking for more of a desktop size engraver, see our article Top 5 – Best Desktop Laser Engraver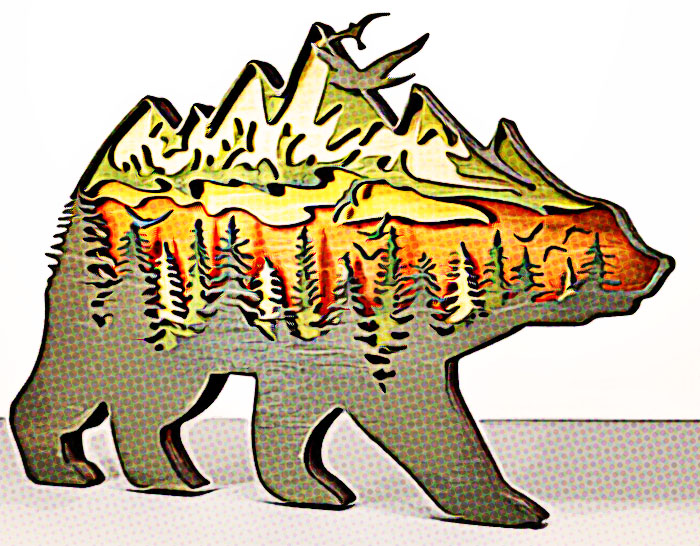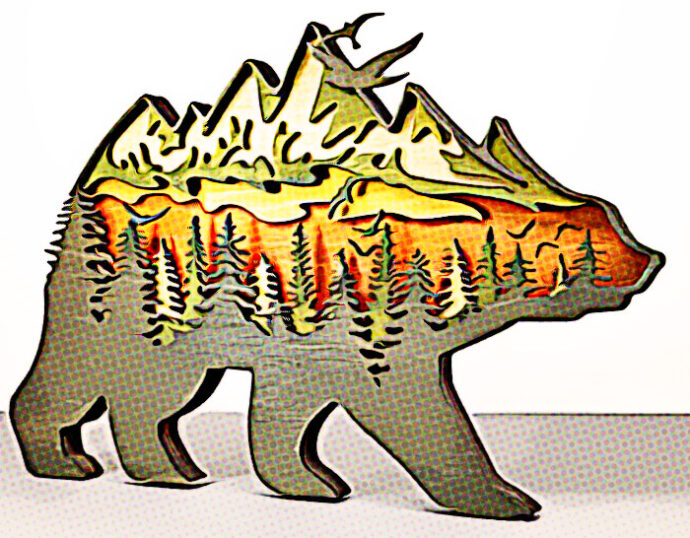 Older & Discontinued Laser Cutters We've Reviewed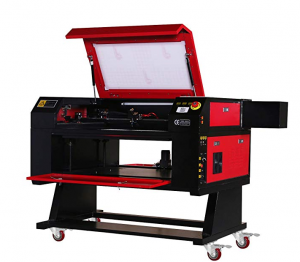 Those who desire a larger, professional-grade device would find this machine a great option. This laser engraver features a Co2 laser tube and an engraving surface of 55" x 35".
Targeted towards small businesses, the Mophorn Laser Cutting Machine offers unlimited design length, USB compatibility, CAD support and a resolution of 1000 dpi. This machine can work on a wide range of materials like wood, bamboo, crystal, rubber, leather, ceramic and more. This is more of an industrial machine – to see more of it's abilities, specs and current pricing, click here.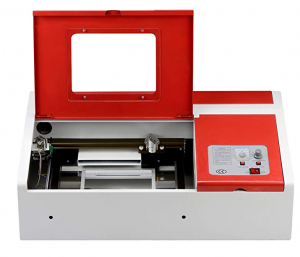 An excellent option for a wide range of users, from hobbyists to small-scale businesses, the SUNCOO Laser Engraver features a 40W water cooling laser tube, precise stepping motors, a highly accessible control board and USB connectivity. It has an engraving area of 12 x 8 inches and is compact enough to fit any office or home for small-scale engraving jobs.
The machine is able to engrave on a wide variety of materials including wood, plastic, glass, leather, plywood, rubber, acrylic and more. It uses laser beam cutting technology to deliver precise artworks. It is a versatile engraver that supports any scanner and printer and is compatible with almost all the standard formats and fonts. For current pricing please click here.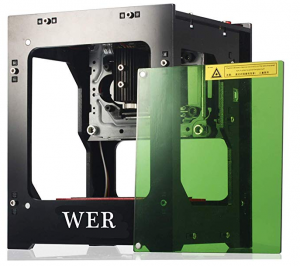 Yet another compact engraving machine ideal for home DIY projects such as engraving tiny trinkets, mobile cases, crafts, key chains and similar tasks. The machine is compatible with Windows desktop as well as Android and iOS platforms.
It is a great option for those who want an engraver that works with mobile device. and is a starter laser cutter with a standard area of 42 x 42 x 78mm. It features a lightweight and portable acrylic frame and makes the ideal pick for a small DIY laser cutter that sits on a table in your room. For current pricing click here.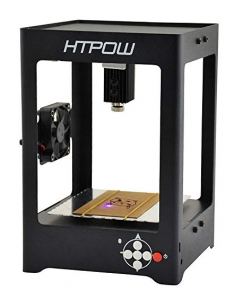 A compact and affordable laser engraver, the Blu7ive machine works on soft surfaces and suits hobbyists and small businesses interested in creating personalized items. The device works with Windows desktop and comes with software as part of the package.
It does not take up much space and can be easily installed in office or home. The frame is extremely sturdy and there are sufficient safety features to protect users from laser. The cutter allows engraving basic texts and designs on a variety of surfaces. This one, I would recommend not buying due to the reviews, but you can check them out here.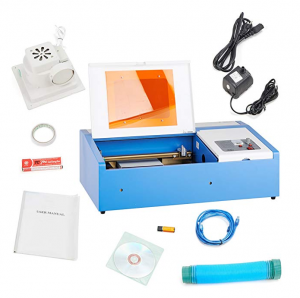 Featuring a 40W CO2 laser tube, this machine is much more powerful than starter kits and can work on most surfaces except metal. Orion Motor laser engraver is a great choice to experiment with glass, plastic, wood and leather engraving. It can also work on metals with coating. It is a highly compact device that offers a cutting/engraving surface of 300 x 500mm and a cutting speed of 80mm per second.
The affordable price and user-friendliness set this machine apart from others. The machine supports Windows PC and there is no wireless connectivity available. It is an excellent choice for those who want to upgrade from a cheap starter kit. This is one of the best values for the money as you can see by the reviews listed here.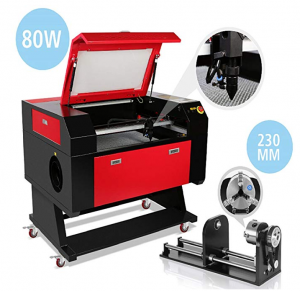 This machine is aimed at businesses who want to add cutting and laser engraving to their machine shops. It offers a working area of 28 x 20 inches with unlimited length design and can work on most surfaces including marble, plastic, wood, glass, leather, garments and rubber.
It suits industrial and professional marking applications. You can use the virtual array list to realize the cut-off function. USB interface means you need not always connect it to a PC. It supports almost all standard file formats and makes cutting and engraving a breeze. The superland is really a step into a more professional setup and it offers a larger cutting area. For more details and current pricing, click here.
When searching for the best laser cutter for small business people also had these questions
What is the best metal laser cutter for small business?
There are a few things to consider when purchasing a metal laser cutter for small business. The most important factors are the size of the machine, the materials it can cut, and the power of the laser.
Small businesses will likely want to purchase a machine that is both small enough to fit in their workshop and versatile enough to cut a variety of materials. A machine with a 300-watt laser should be able to cut through most metals, including steel, aluminum, brass, and copper. However, if you plan on cutting thicker metals or have a larger workspace, you may want to consider purchasing a machine with a higher wattage laser.
There are a lot of laser cutters that can cut through metals other than steel, but to cut through steel you really need a lot more wattage to do it.
What is the best wood laser cutter for small business?
It depends on the needs of your small business. Some considerations may be that you need a wood laser cutter for complex shapes, complex engravings, or if you are cutting in smaller quantities. For example, if engraving logs in bulk with custom shaped incisions is an important use for your company, then having the ability to configure the device to cut curves with tighter tolerances will save time and increase accuracy. Other considerations might be how much power is needed to meet requirements of throughput through production per hour when drilling deep holes at high speed.
Each machine has its own advantages when it comes to speed, precision, quality and durability.
The biggest thing you will need to know is: the thickness of material you want to cut through and how often you will use it.
By knowing this, you will be able to narrow your searches down based on the wattage you need and duty cycle the machine can handle.
If you're looking to buy a machine that's locally made, maybe the following will help you:
Best laser cutter for small business canada
Again, a big part of your decision is going to be based on the answer above.
For machines made in canada, you can look for Aeon laser, Thunder Laswer or Cancam lasers as they're all based in Canada.
Best laser cutter for small business uk
For UK made laser cutters, look for CTR lasers or lotus laser.
Best laser cutter for small business australia
Laser Machines, ALfex Laser & Koenig Machines all offer laser machines in Australia.
Best laser cutter for small business philippines
In the Philippines, you may be able to find Epologue lasers. Of course, as the Philippines is so close to China, you could investigate options from there as well.
Is laser cutting a good business?
No, it's a terrible business. The margins barely exist and the market is oversaturated.
Now, maybe that's a bit too harsh.
But there is A LOT of competition out there. So if you want to get into the laser cutting industry, you will need to find a way to differentiate yourself from the competition. Otherwise, if you end up just offering your laser as a service, you will always have lower priced competitors.
In order to succeed, you will have to be able to add a lot of value in order to justify charging prices that include a decent profit margin.
For most, laser cutting should be seen as a hobby rather than a serious business venture. Lasers are expensive to purchase and operate–more expensive than milling machines, wide format printers, even 3D printers.
Is laser cutting business profitable?
No. Historically, cnc laser cutting machines and engraving systems were priced at a margin that could only be afforded by the largest of corporations. They were so expensive because they were complicated to operate and took specialized skills to maintain. But as technology became more affordable, these hurdles no longer prevented small businesses from buying commercial quality equipment and reaping the benefits of laser technology for themselves!
The end result of this is increased competition which drives the profit margin down.
What is a laser cutter?
A laser cutter is a device that uses lasers to cut materials. It works by directing a laser beam at the material to be cut, and the heat from the beam melts or vaporizes the material. The molten or vaporized material is then blown away by a gas jet, leaving behind a clean cut.
What are the top features to consider?
The laser type
The power output of the laser
Output area as well as the overall dimensions of the table itself
Speed range
Transmission ratio
Feedback adjustment capability
Parts program interface complexity and ease-of-use, radiation hardness, maintenance requirements, dust capacity, speed range between vector/raster scanning mode(s) and all media types supported