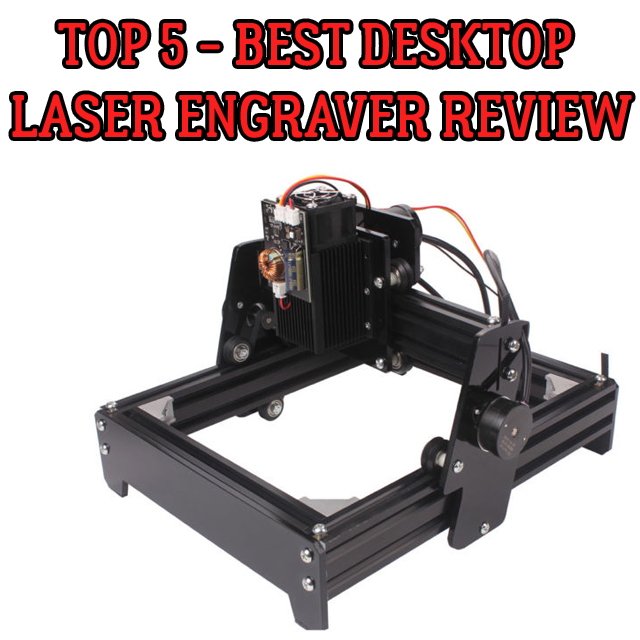 Top 5 – Best Desktop Laser Engraver – UPDATED 2018
Laser engraving is used in many different products that we use in our daily life. From personalizing items as gifts to creating a unique pattern, laser engraving has many different uses. Engraving a message or design on an item not only makes the item personal to the owner but also adds a sentimental value to any gift and commemorates special events.
Engraving time stamps, serial numbers, bar codes, part numbers, component labels and date codes offer security for products as it is permanent and quite difficult to remove. Gone are the days when you had to take the items to specialist engraver location to get your message or design engraved on them. With more and more companies making portable Laser Engraver machines, one can own one and turn this method into a hobby or a profitable business.
Here, we list the some of the best available on the Desktop Laser Engraver category that you can consider buying for DIY and commercial purposes. All these machines vary in terms of power, weight, dimensions and features. You can check some of them and find the one that meets your requirements and applications the best. For more reviews on laser cutters specifically, see our post here. Some of the links on this page are affiliate links and as an Amazon Associate I might earn a tiny amount from qualifying purchases if you end up buying something through one of them.
The Best Desktop Laser Engraver Review – The Desktop Laser Engraving Machine Shootout!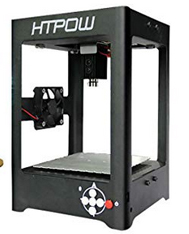 If you are looking for a way to create unique art with ease and at an affordable price, the HTPOW Handicraft Engraver is the right choice for you. With an engraving area of 70 x 70mm, the machine is quite suitable for personalizing small items. The device uses a ferroalloy durable frame and a blue-violet laser.
With an attractive frame shape and lightweight design, this desktop engraver is easy to place anywhere in the home to start working on DIY projects. A power of 1000MW allows the engraver to provide deeper, darker engravings. It can be used in a variety of conditions with three modes – Gray Scale, Black & White and Offline.
The most appealing feature of this engraver is the high precision of up to 0.075mm. It works with Windows PC and supports a large number of image files. It can be used to engrave on a variety of non-metal materials including paper, leather, wood, bamboo, plastic and rubber. For more on this engraver, please click here.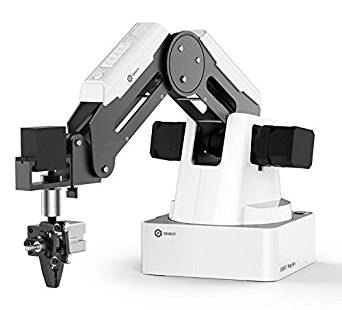 A simple robot arm desktop engraver, Dobot Magician features a simple, elegant black-white design. It offers a 0.2mm precision for DXF, SVG and BMP files letting you create the perfect strokes. It works on any non-metal materials including wood and leather. You can engrave a lot of complicated patterns and designs using this powerful device.
Dobot Magician offers multiple ways to control operations including phone, PC, voice, gesture and brainwave. A wide variety of operation modes make this tool quite versatile and useful. The manufacturer has integrated a lot of exciting functions while making really easy to control the robotic arm.
It offers an entire set of parameters to customize matching your requirements. It is possible to control the robotic arm without having to code anything. The engraver comes with anti-radiation glasses included for protection of eyes. What more, Dobot Magician is much more than a desktop laser engraver; it is a multi-functional robot arm that allows writing, 3D printing, painting and engraving. For more specifics, click here.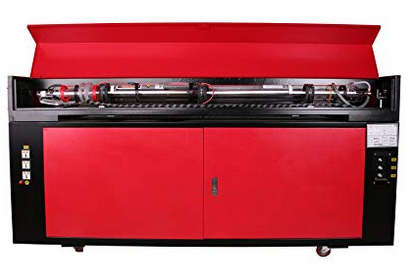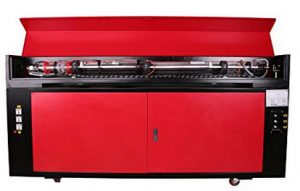 Mophorn is one of the best desktop laser engravers available these days. This model combines excellent performance with a compact size to allow convenient use in home or small shop without loss of efficiency. You can expect accurate engravings and high-speed operation with this device. The integrated water-cooling system ensures the machine can run for hours together without overheating.
It has an innovative design with metal housing and powerful stepper motors. It includes the CorelDraw vector editor software program which is comprehensive and simple for any user. The Mophorn engraver comes with an improved laser tube that offers an enhanced operation time.
The control panel is more intuitive and functional while the emergency cut out function ensures safer operation. The machine engraves at a speed of 350mm per second and offers an engraving area of 300 x 200 mm. It can engrave on leather, wood, acrylic, plastic, bamboo and other non-metal surfaces. For more detailed specs and pricing click here.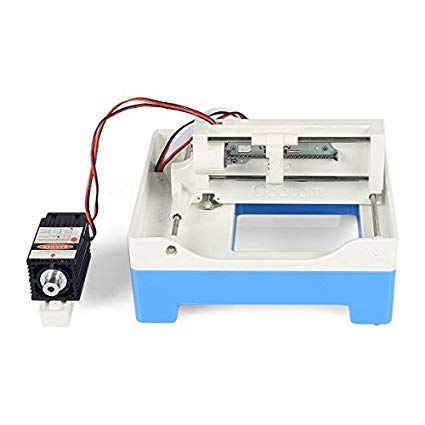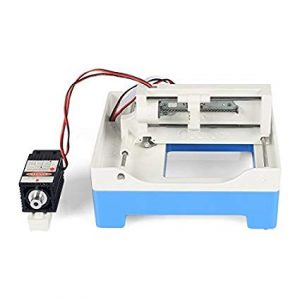 Those looking for a compact, functional, affordable laser engraver for wood and other non-metal surfaces would find SainSmart engraver useful. Though it covers a good engraving area of about 69 x 68 mm, it does not offer much power and is good for a beginner and advanced DIY laser engraving enthusiast. The device features superior accuracy allowing you to engrave designs with fine details or make tiny inscriptions with ease.
This desktop engraver is made up of plastic and hence very lightweight and portable. With this machine, you need not perform tedious operations like G-code generation as you do on other machines. You just open the image files and start engraving.
SainSmart 1000 mv blue USB cutting machine engraver also comes with features like grey engraving, reset and low-light positioning to offer a highly optimized customization experience. It works on most non-metal materials including plastic, wood, cardboard, leather and bamboo. Click here for more on the Sainsmart engraver.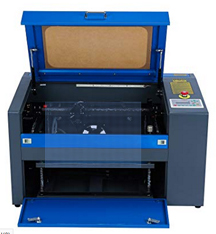 One of the best choices for a cost-effective desktop laser engraver, the Orion Motor Tech 40W machine has an approachable look with a box-like construction. It is a user-friendly engraver for home users and DIY enthusiasts. It features a unique water break protection for safety and this makes it stand out from other engravers.
Another feature is the predrilled holes which prove to be a great appeal to commercial users as they allow future upgrades. You can easily add a 50W or 60W laser tube in the future to add more power.
The machine is quite flexible and works on a wide range of non-metal materials including leather, wood, crystal, stone, paper, film, glass and rubber. Once set up, the machine is quite easy to work with. The company offers a great after-sales service which you can use in case you face any problems with installation or use. For more specifics on this great machine, click here.
These are the top recommended models for DIY hobbyists and small businesses looking for compact, easy to use, functional Desktop Laser Engravers for their small to big engraving applications. Do share your experiences and thoughts in the comments section below.