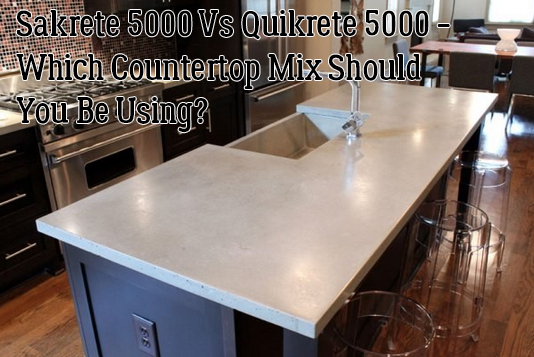 Sakrete 5000 Vs Quikrete 5000 – Which Countertop Mix Should You Be Using?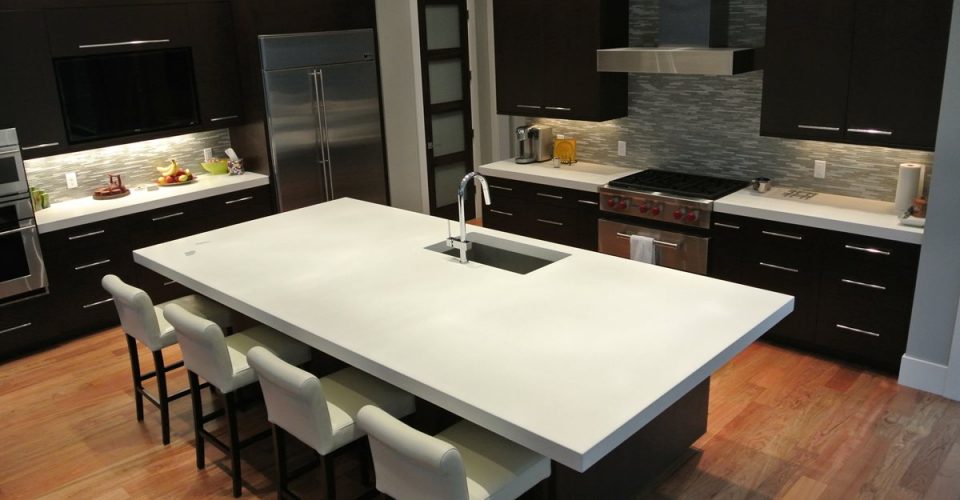 So you've decided to make your own concrete countertops.
Naturally, you're looking into the products that you need in order to do the best job possible and with all of the different options out there, it can be overwhelming. So you've probably run into the quikrete countertop mix in your search.
And then you stumble upon the different types of concrete and you find yourself thinking, "Sakrete 5000 Vs Quikrete 5000 – Which Countertop Mix Should You Be Using?"
If that's you, then read on. And as you do, please note that a few of the links may be affiliate links and as an Amazon Associate I might earn a few cents from qualifying purchases.
Sakrete 5000 Vs Quikrete 5000 –
Which Countertop Mix Should You Be Using?
Let's start with reviewing the products themselves to see what each is all about.
Sakrete 5000 Concrete Mix
Sakrete 5000 counter top mix is a professional blend of Portland cement, sand and gravel, formulated to be faster and longer lasting. It's also used for repair and construction work where the concrete thickness exceeds 2 ".
Here are a few of the features of sakrete 5000 counter top mix:
• It has a high strength 5000 psi
• Designed for full depth applications 2 "(51 mm) or more
• Ideal for structural applications requiring low concrete volume
• It can be ready to handle pedestrian traffic in as little as 12 hours
• It sets up in cold weather faster than regular concrete mixes
Sakrete 5000 counter top mix can also be used for:
• Walkways, slabs, terraces, driveways
• landscape borders
• stairways
• ramps
• setting fence posts
• Foundations and floors
• Plates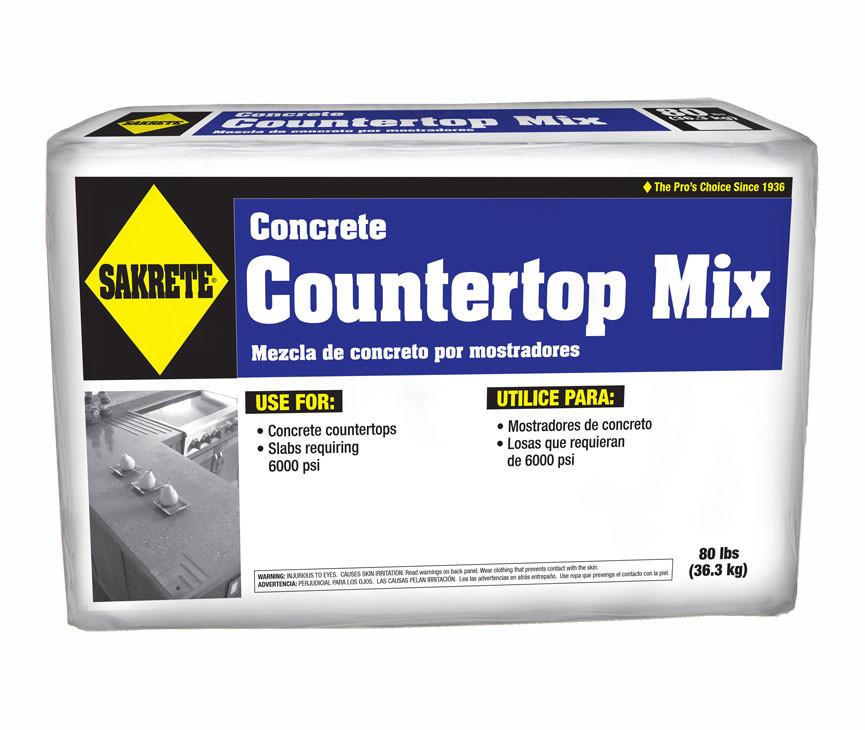 How to prepare sakrete 5000 counter top mix
Before you install any sort of concrete counter tops, you have to remove the old counters and build a concrete mold. It is important at this point to make sure that the top of the cabinets are completely covered with plywood and that the base cabinets or formwork can support the weight of the new concrete worktops. Measure the base cabinets and add an extra inch to the overhang when building the mold.
Make sure that you use melamine resin coated plywood (MDF) as it will release from the concrete a lot easier than regular concrete.
And if you use plywood like this, you can create your countertops in virtually any shape you want.
Screw everything together, make sure that everything is level and make any cutouts you need for a sink or faucets in the mold.
Depending on the weight of the countertop slab, you might need to use rebar if you're doing a "pour in place" countertop.
If you're using an undermount sink, you should hold it in place using additional supports like these.
Whether you're doing a cast in place or precast concrete countertop, both the Sakrete Countertop Concrete Mix & Sakrete 5000 Plus High Strength Concrete Mix can be used
How to apply sakrete 5000 counter top mix
Sakrete Concrete Countertop Mix features a high-flow formula that facilitates pouring and the molds can be peeled off 24 hours after pouring. The compressive strength of this mix will exceed 6000 psi after 28 days and it produces a very durable surface.
Start by mixing your dry ingredients with the appropriate amount of water in order to achieve the desired consistency. It is important not to flood the countertop mix, otherwise you might end up with a mix where most of the lime comes to the surface ruining the finish – or you might end up with a concrete mix that's too soft.
Once you've got the consistency you want pour the Sakrete Concrete Countertop Mix into the mold and wait 24 hours. (Note: If the Sacrete Concrete Countertop Mix is not available in your area, you can achieve a similar appearance with the Sakrete 5000 Plus high-strength concrete mix.)
After 24 hours, you can remove the forms and then grind and polish the concrete until you're happy with the end result.
Make sure that you check with the polisher manufacturer for recommended cure times and proper surface hardness before you start polishing.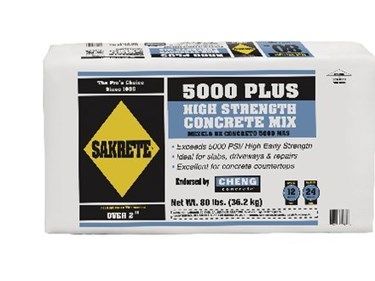 Benefits of sakrete 5000 counter top mix
• Concrete is extremely durable and resists the wear of an active family. It does not scratch like some stone countertops, and unlike laminates it is very heat resistant, which is perfect for a busy kitchen. This is especially important in kitchens and bathrooms where sharp objects and hot items are common.
• Not only can you use Sakrete 5000 Plus High Strength Concrete Mix to form counters, but you can use it to do other creative work. The industry is moving in a direction where 3D designs and textures are in constant demand, and a local hardware store has everything you need. Pour on a laminated wood panel to create a wood-concrete panel, or use a textured ceiling panel to create a modern concrete slab. All you need is a mix of Sakrete Countertop Concrete or Sakrete 5000+ high-strength concrete mix, a frame and whatever you choose to pour. While design trends focus on concrete, designers are looking for inspirational ways to integrate concrete into their designs.
Quikrete 5000 countertop mix
Quikrete 5000 is a commercial concrete mix developed for projects such as running boards, deck racks, terraces and entrance decks. You can also use it to create solid concrete countertops that you can later finish with acidic etching or tile. Quikrete only needs water to activate the concrete. Because of this all you need is a few basic tools to mix concrete – you don't have to mess around with different additives like lime or sand.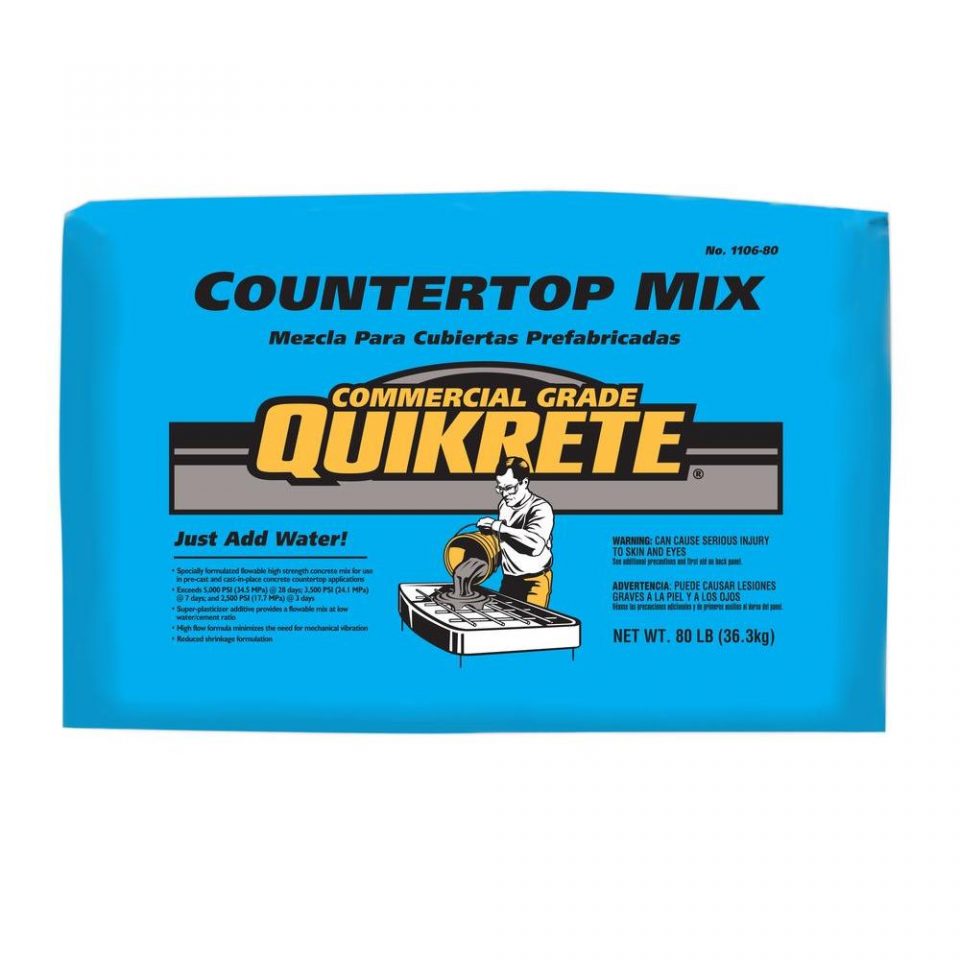 Features of quikrete 5000
• It's available in two colors (white and grey) which can be combined with either Quikrete's Liquid Cement Colors or their Stucco & Mortar Colors to get more than 20 different shades.
• Quikrete also has new etching colors available that can be used with the Countertop Mix to create a multi tone finish in Olive, Tan or Coffee. The acid-based stains are simply brushed on the surface and then wiped off, which can create "a beautiful marble marble look."
• The Countertop Mix is high-strength concrete blended with superplasticizers that ensure good flowability while maintaining a low water-to-concrete ratio (7 pints to 8 pints per 80-pound bag). After 28 days, it will achieve a compressive strength of 5,000 psi but, unlike other high-strength concretes, requires very little mechanical vibration.
How to mix quickrete 5000 countertop mix
Things you'll need in order to make this mix:
• water
• Wheelbarrow or concrete mixer
• trowel
• a couple of buckets
• a shovel
Add ¾ of the amount of water indicated on the package for the concrete you need to mix in your concrete mixer or wheelbarrow. Pour the full amount of Quikrete 5000 into the water and start the mixer. If you are using a wheelbarrow, mix the concrete manually with a trowel or shovel. Mix until the consistency is as thick as plastic. Add extra water to improve consistency or to keep the concrete moist. Quickrete is designed to cure quickly. So you have to work fast or supply the concrete with moisture.
Which Is Better?
There are a number of things to consider when making your concrete countertops.
If you're going to be coloring the counters or want to etch them, I recommend using the quikrete countertop mix in white as it will take the dyes better and offer better coloration than if you went with grey.
I would also use use Quikrete if you're doing any sort of pre-cast (IE not a pour in place) mix – especially if you're doing a GFRC mix.
If those aren't applicable to you, you could go either way.
That said, here are a few other tips when pouring concrete countertops:
So there you have it – I'd go with the Quikcrete 5000 in white and get out there and churn out some awesome projects!
You can also look into our GFRC DIY Countertops article here if you want to make a lighter variation of a concrete countertop.