DIY Resi Blast – How To Make Resi Blast & Resi Blast Alternatives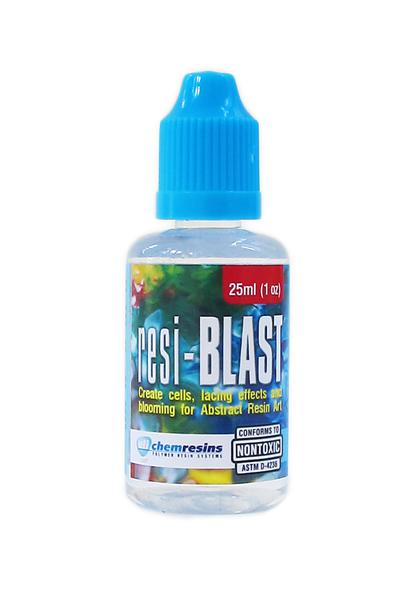 Resi-BLAST is a highly innovative chemical liquid additive dropped into wet and colored resin. It is a single part additive commonly known as interference medium or dispersant.
Resi-BLAST is effective at creating a 'lacing' effect, color dispersions, cell structures as well as gradients. The single part polymeric liquid easily reacts with polyester, epoxy and polyurethane resins and repels itself when dropped onto these resins. Such a reaction stimulates movement and blooming in concentric outward circles. The dispersion reaction creates movement in any self-contained cellular structures. Resi-BLAST is not a resin or paint and hence does not cure on its own.
Resi-BLAST droplets should be added to the pigmented resin surface soon after pouring. The movement is initiated instantly and you can use a torch or heat gun in the area to enhance the effect. It is a safe and user-friendly additive. It is inert, stable, odourless, non-flammable, non-toxic without any dangerous chemical or solvent content. It is a great addition for creativity and allows creating unique visual effects on any surface. It is an excellent tool for creative people looking for something extraordinary to do. You can check it out here. Some of the links on this page are affiliate links and as an Amazon Associate I might earn a tiny amount from qualifying purchases if you end up buying something through one of them.
DIY Resi BLAST – How to Make Resi BLAST?
Resi-BLAST can boost your imagination and creativity. Let us see how you can do your know Resi-BLAST on any surface. It is important that you don't delay pouring on the resin because Resi BLAST works only when the resin is still fluid. Once the resin begins to cure or gel, the reaction will not work.
Protect the entire workspace with plastic before you begin creating Resi BLAST. You can do this using a painter's drop sheets. You can then elevate the surface you want to work with. This ensures that the resin does not flow on to the protected surface. Cover any part of the surface that you do not want to include using a painters tape. Next, measure equal quantities of resin and hardener depending on the area you are working with. Mix the two together until they get completely combined. You can then create different colored resins by adding pigments of your choice of colors into different amounts of resin. Then, go ahead and pour the resins in different colors over the surface parts as per your imagination.
Now, add few drops of Resi-BLAST to the resin. You can see the best effects at the points where different colors join each other as Resi BLAST creates color dispersion. Allow the resin to cure overnight. You can see beautiful lacing effect on the surface you worked with.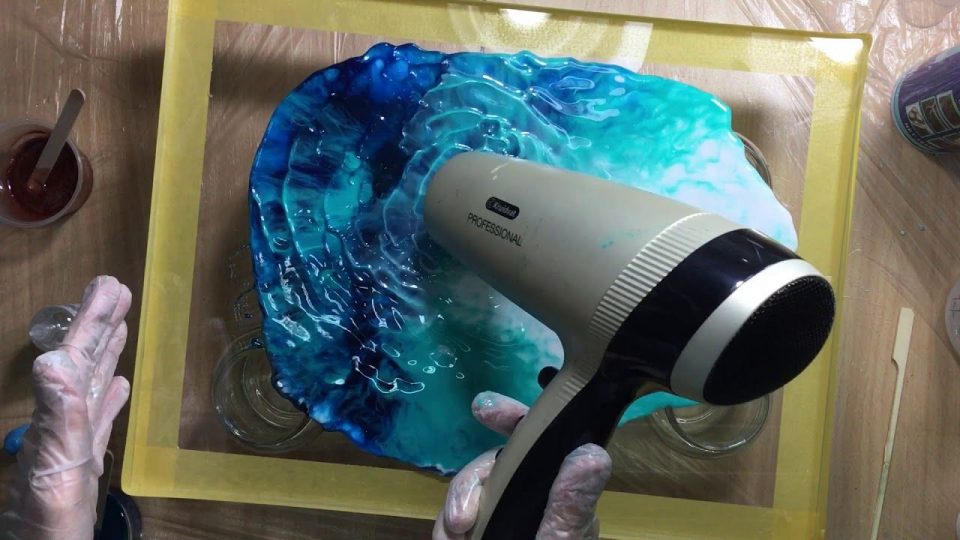 Now, if you're wanting to try and get the same effect without buying this product you can try to achieve the effect manually.
To do this try using a small paintbrush (or even a toothbrush) to lightly flick some small dabs or drops of silicone onto your resin mix. You can also try using an eye dropper to put some bigger globs onto the top of your resin.
You might find that you have a little more control over the process using a tool like this.
After the resin has hardened then you can remove the silicone off the top of the resin using a cloth.
Resi BLAST Alternatives
Resi BLAST is a great choice for those who like to experiment with their creativity. It is an easy to use liquid that creates unusual effects like gradients, dispersions and lacing on any surface when used with resin. It gives you unlimited possibilities for artwork. The ASTM certified single part polymeric liquid works with polyester, epoxy and polyurethane resins.
Resi BLAST dispersion media for resin can be easily found at online stores for affordable prices. ChemResins Resi BLAST comes in a 1 oz bottle and suits personal creative applications. They are shipped worldwide and you can easily find a store that delivers to your country.
MasterCast Resin and TotalCast Resin made by Eli-Chem Resins UK are meant to provide better options to artists when playing around with resin art. TotalCast resin has a lower working time of 7 to 10 minutes while MasterCast has a working time of about 10 to 15 minutes. These resins when used for creating DIY Resi BLAST give the best effects on any surfaces.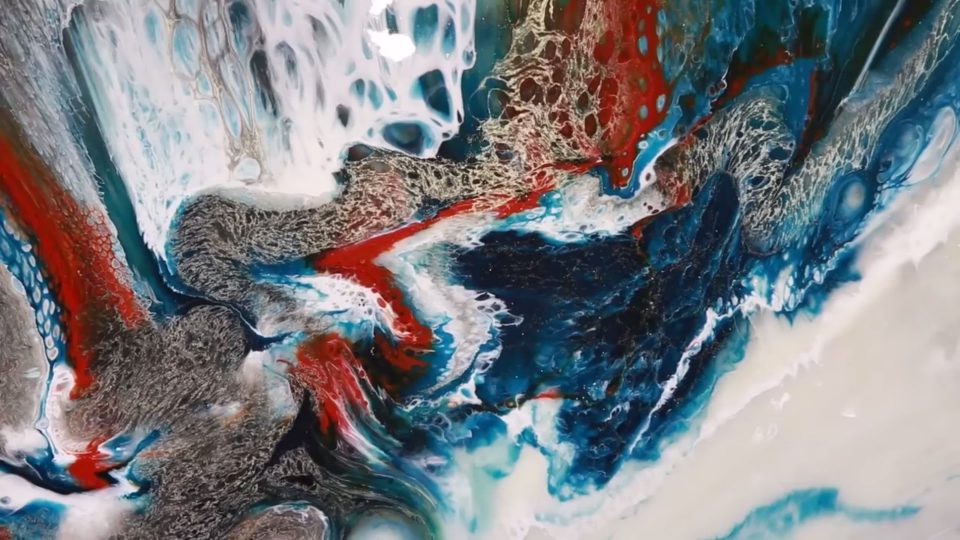 There are some other mediums that work well with resins and help creating unique effects on any surface. Liquid acrylics and fluid acrylics help achieve desired colors when painting with resin. Airbrush paints come in variety of colors including metallic options. One can also use powdered pigments and alcohol inks to achieve pigments and color effects with resins. Spray paints and oil paints are other options for additives.
Another great resin product is called Art Resin.
Resi BLAST Ingredients
Resi BLAST is an innovative, advanced formula created to be completely safe to use, non-toxic and non-hazardous. It is a single part polymeric liquid which readily reacts with any resin and repels itself away to stimulate movement. Talking about the ingredients, Resi BLAST is a secret formula and all we can say is it is a carefully formulated mix of polymeric wetting agents and organic dispersants. It does not contain anything flammable or aggressive. It works with any resin but to a different extent of effectiveness. An unfilled clear, medium viscosity epoxy resin works the best for Resi Blast's maximum effect.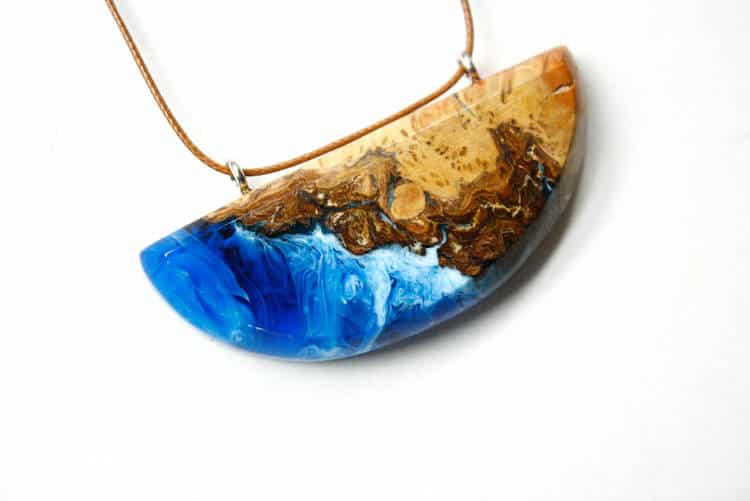 Resi BLAST is a disruption medium and it is not absorbed into the resin. It remains separate. Being a single part liquid, it does not cure hard like the resin. Hence, once the resin beneath it is cured, it leaves oily residue on the surface. Though it does not hinder the resin curing process, any excess of the resin comes to the surface and appears to be waxy. It is recommended that you wipe off any such layers with a dry cloth before creating any further layers on the surface. Lesser the drops of Resi BLAST you use, lesser residue and dimples can be expected. The substrate makes the difference. Using Resi BLAST on canvas would create dimples but using it on stiffer surface such as aluminium, wood and mdf ensures that it remains smooth and flat without leaving any dimples.
Using Resi-BLAST is extremely easy and user-friendly without any adverse effects to the surface or the user. However, it is advisable to understand how it works and what steps should be followed in order to ensure that you get the desired result with this innovative product.