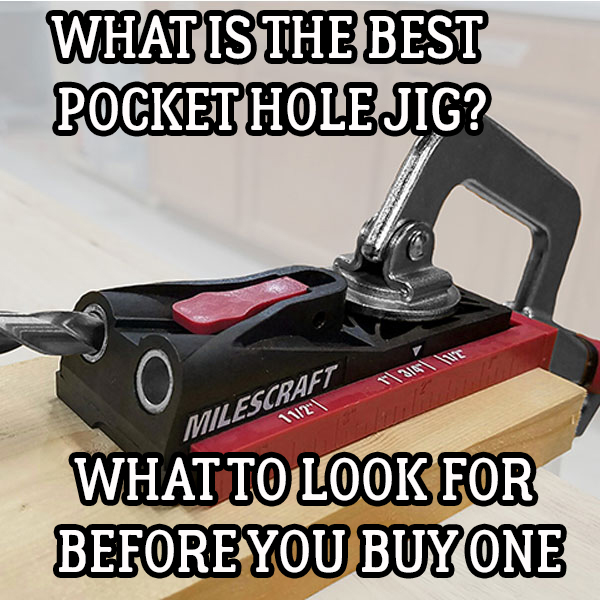 What is the Best Pocket Hole Jig? What to Look for BEFORE You Buy One
Whether you are carpenter or just like to make your own work in your workshop, you are always looking for ways to improve or simplify the work with wood. For this purpose, you definitely need the best pocket hole jig that you can find to easily join two pieces of wood together. A high-quality template makes it easy to join pieces of wood and help you to hide the screws for a professional end product.
The Best Overall from our best pocket hole jig reviews Updated for 2022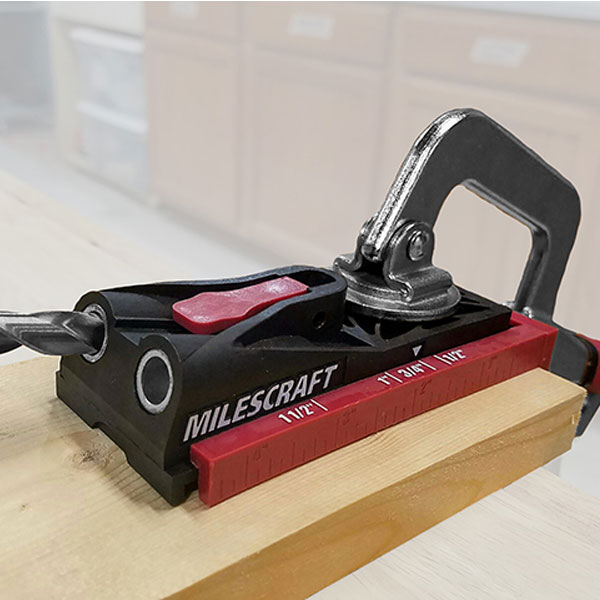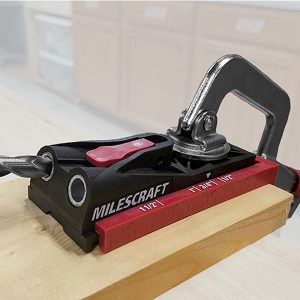 The Milescraft jig is my favorite jig to use. I absolutely love the magnet it uses with the clamp to help you locate and fix the jig quickly.
And when you're working on your own, you can use all the extra help you can get 🙂
It allows you to drill the most common board thicknesses (1/2″, 3/4″, 1″, 1.5″) and I've found it to hold up nicely to regular use. In fact, it's the jig I've used to make the cabinets in our article DIY Storage Cabinet – A Simple Cupboard Design. In fact, it's the jig I've used for ALL the projects on this site that use any sort of pocket hole.
Now, while this kit comes with an assortment of screws, I would only use the Milescraft screws until you run out. I wouldn't bother buying any more screws from them, as the custom driver they use strips pretty easily.
Rather than using the specific screws from Milescraft, I just use Kreg screws (like this set here) as you can use them with a standard screw bit.
If you want a jig that's geared a little more for production work or heavier use, you can check out our article The Best Pocket Hole Machine – What to Look for BEFORE You Buy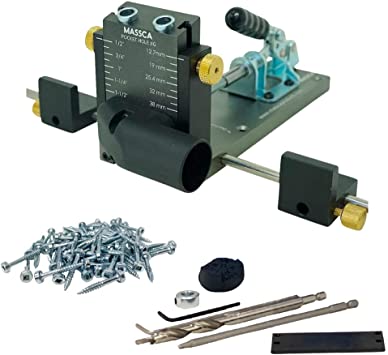 The Massca aluminum pocket hole jig is an attractive option for DIY work. It's a beast with its durable all-metal construction, ensuring that this tool will last long enough to make many projects! You may have felt awkward trying to use competitors' plastic models on wood, but you won't when using this system.
A pull of their patented handle quickly locks everything in place and the rubber protective piece is a nice touch to keep the workpiece from scratching.
The depth of your pocket jig can be adjusted with the turn of a knob, and it includes accessories like hex keys for drilling screws into hardwood.
And it's got a port for dust collection!
As it's more of an industrial option, it is more expensive.
But it's a pretty sweet set up.
Click here for the specs & lowest price.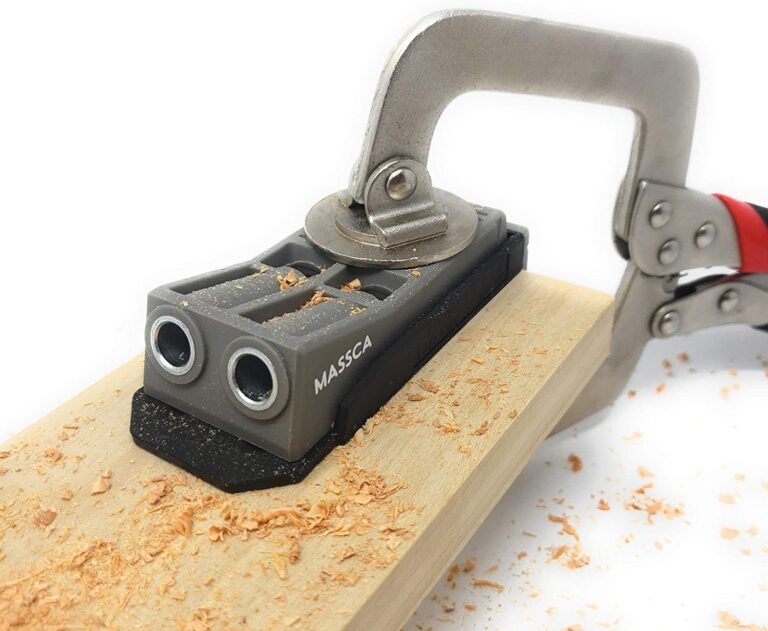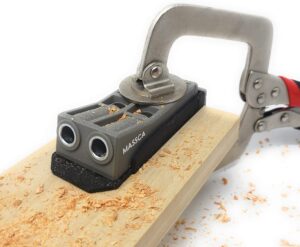 While we're at it, we might as well go over the Massaca Twin.
If you're looking for an affordable pocket hole jig set, this is a good option.
It's got 2 guide holes and all the usual stuff including: a stop collar, hex key and drill bit.
The built-in magnet makes working easier by allowing the clamp (sold separately) to fix onto the jig.
I still find myself feeling that the Milescraft kit offers a bit better value, but they're pretty close.
Click here for the latest price.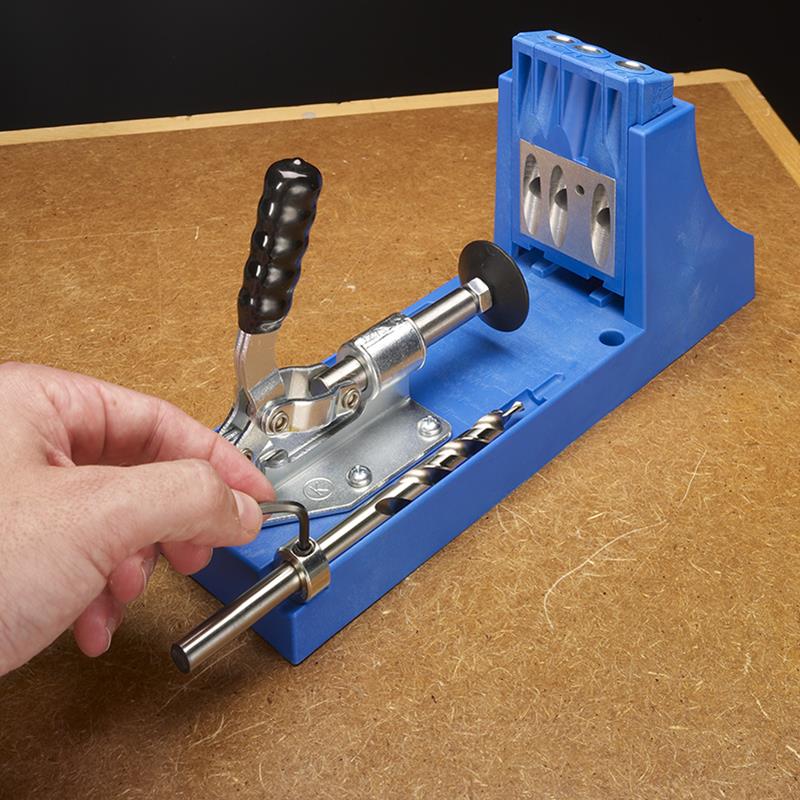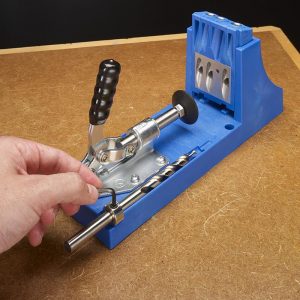 Kreg has an impeccable reputation for high quality woodworking tools. The K4MS K4 master system is no exception. It is an excellent pocket template for building furniture in the store and for building or repairing furniture on the street. It offers almost unlimited adjustment options, a large clamping recess, a material stop, a removable 3-hole drill guide and a dust removal attachment to keep your work area clean and dust-free. The removable drill guide makes this perforation template a great table model and an excellent tool for contractor quality with a portable base. It can be used to drill pocket holes in materials of 1/2 to 1 1/2 inches thick and can be adjusted in 1/8 inch increments. All of these features create clean, easy-to-connect pocket holes. This kit includes pliers, a drill, dowels and wood screws.
Advantages:                                                                              
Progressive 1/8 inch setting between 1/2 and 1 1/2 inches
Removable 3-hole drilling guide
Large clamping recess
Shut down the hardware support
Dust collectors
Portability
Comes with a good selection of wood screws in a handy container
The disadvantages:
Excessive flexibility for larger pieces of wood
The depth of the collar and the height of the bracket must be adjusted for each wood thickness
The lateral positioning of the dust collector can interfere
Kreg jigs are probably the most common jigs used by both DIY and professionals alike due to their reasonable prices and great list of features. For current pricing, you can check them out here.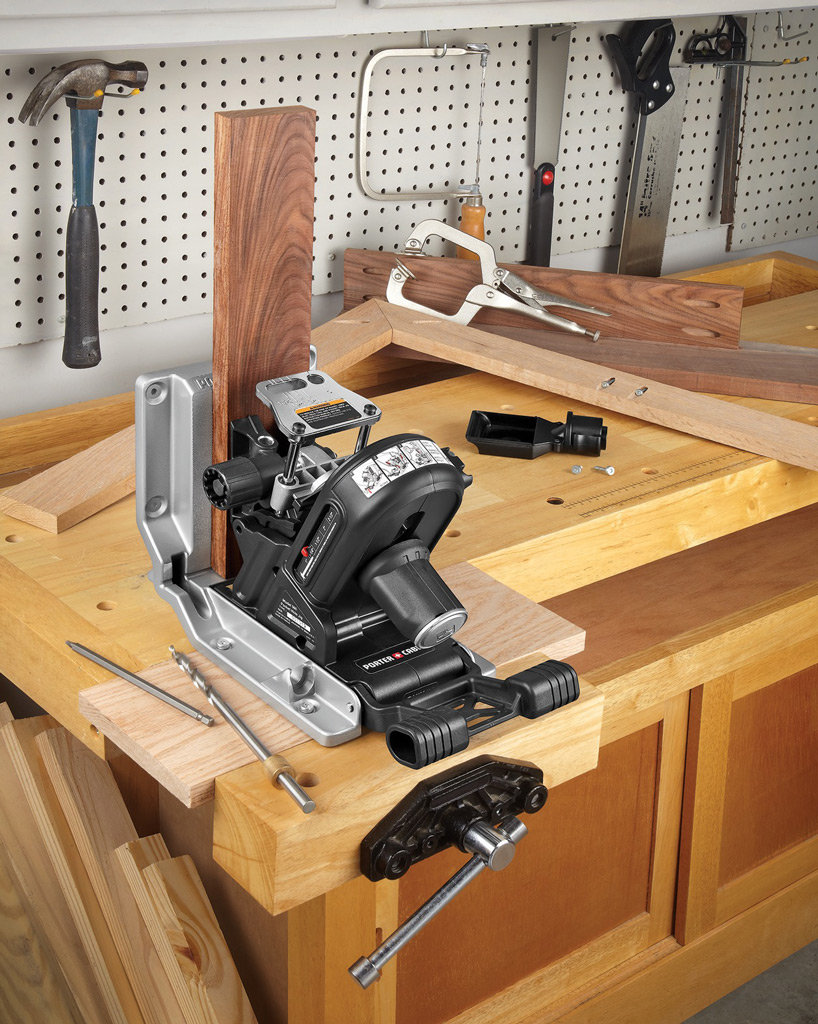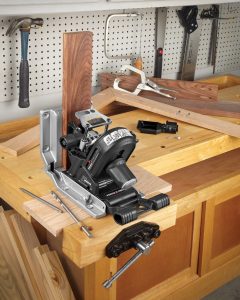 The Porter-Cable QUIKJIG pocket-hole room system is easy to use anywhere, provided you can install a solid workbench or table. This pocket hole template drills holes in wood from of 1/2 to 1 1/2 inches thick. The depth and thickness gauge indicates the best drilling angle. It also has a gauge that recommends the correct screw length. This is one of the best pocket hole templates on the market. It comes with a wick, a deep collar, pliers, an Allen wrench, square wrench and 100 screws.
Advantages:
Easy to handle
Adjusts automatically to the thickness of the wood
Recommends the correct drilling angle and screw length
Can easily be used on longer pieces of wood with a 2 × 4 stand
The dust collector is at the back
The disadvantages:
Do not hold tips that are 1/2 inch thick or smaller
The screw size recommendations are not always accurate
The stop is made of plastic and not very strong
This is a nice bench mounted unit. For current discounts and availability, click here.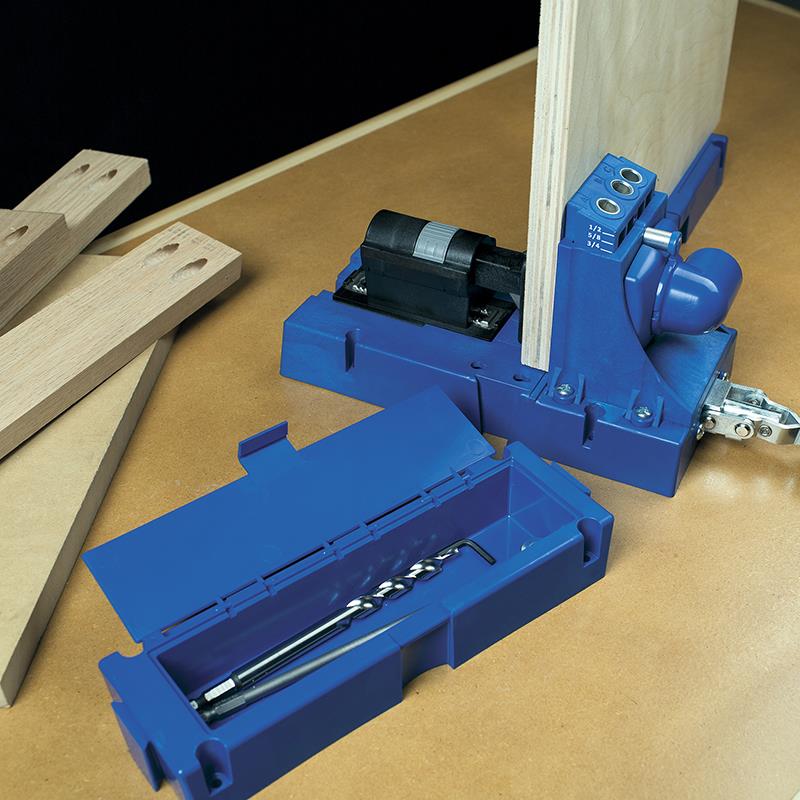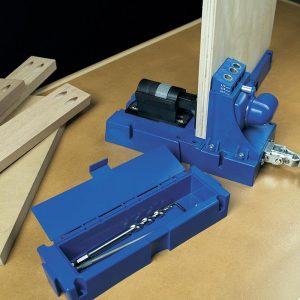 The Kreg K5 Pocket Hole Jig is an excellent portable device with convenient storage compartments for screws, bits and other accessories. The ratchet handle is easily adjusted without tools and the clamping handle is located on the front of the drill. This is one of the best pocket hole templates for mobile woodworking and beginners. For the first time, this jig even offers six simple projects with it. The installation is fast, easy to use and everything you need is stored directly in the device. This pocket template is supplied with an adjustable end stop, screwdriver bits and a hexagon drill and a table to help you choose the right screw size.
Advantages:
Very portable
Fast and easy to install
Fits easily to different board thicknesses
Practical storage for screws, bits and accessories
The dedusting port swings easily from one side to the other and can be connected to a standard vacuum hose
The disadvantages:
Does not resist intensive use
Can come broken or missing parts. Check immediately.
This is another jig from industry leader Kreg. But for me, if you're going to buy a Kreg jig I would personally buy the K4 system. But you can check out the K5 jig here.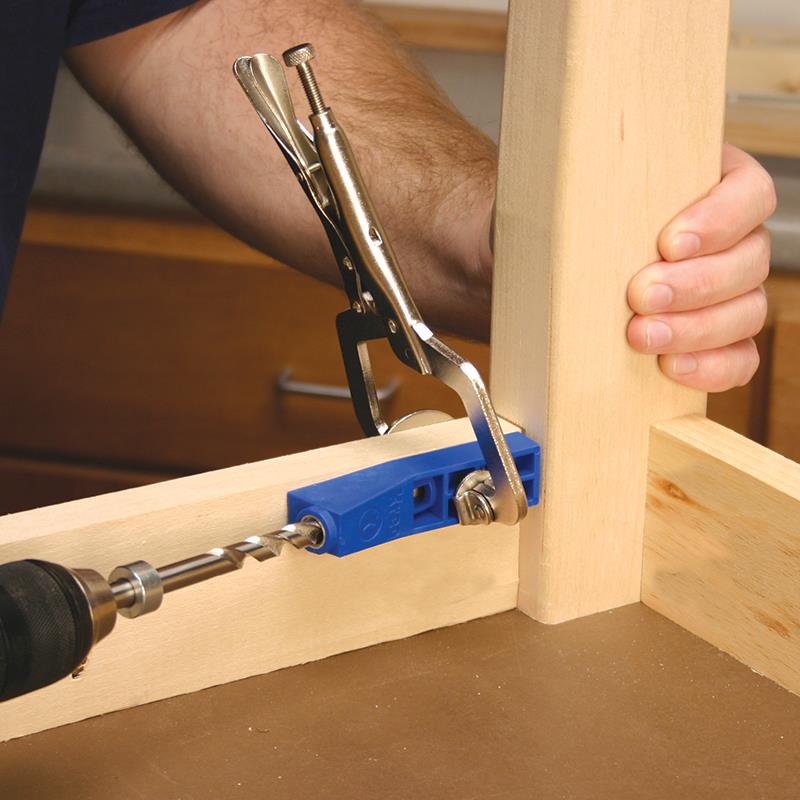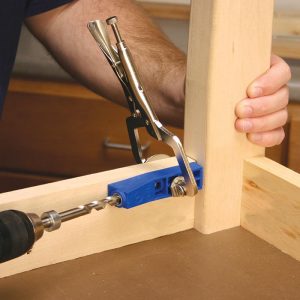 The Mini Kreg Jig is ideal for occasional use or for use in very tight spaces. It is very convenient and easy to use. This is a one-hole template kit for repairing furniture and flooring. The kit includes a set screw, a step drill, a depth ring and an Allen key. The mini-jig kit is ideal for working in small spaces with limited space.
Advantages:
Easy to handle
Very portable
The positioning is very easy due to the construction without fence
Can be applied to wood of any thickness
The disadvantages:
If you don't have any other pocket hole jigs yet, I would buy one of the other systems first as to be able to drill 2 holes with one set up is a lot more convenient. I would only buy this kit if you have a very specific application where you only have room for one hole and you have very limited space to get  jig into.
You can see this jig and it's current pricing here.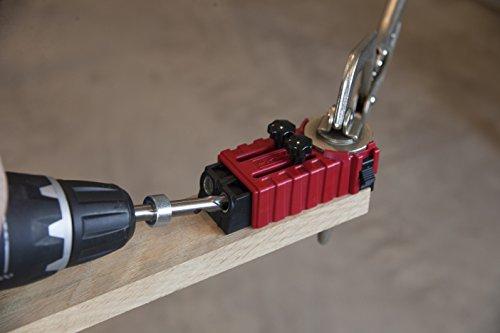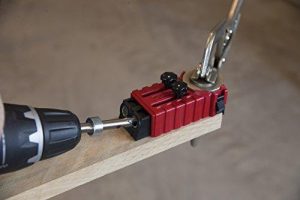 The Impakt P1 Handhole Template is ok for light work. It can be used to drill pocket holes in 1/8-inch increments in 1/2 "to 1 1/2" thick wood. Special holes for chip removal keep wood chips away. It has retractable edge stops, making it suitable for use in cabinets. This pocket hole template comes with a 3/8 "drill with a deep necklature, an Allen key, a 6" square drill and 50 1/1 "long wood screws, which is a cost-effective pocket template.
Advantages:
Cheaper than similar pocket hole templates
Easy to handle
Can be used for a variety of projects
Drilling aids are easy to remove
The disadvantages:
Not robust enough for hard use
Maybe not the best pocket size for beginners
Difficult to get the right settings when using more than one wood thickness
General Tools 850 Heavy Duty All-in-One Aluminum Pocket Hole Template
This kit is a complete pocket hole template system. It includes a two hole drill jig, pliers, a 3/8 "step drill, a 3/8" steel thrust collar, an Allen wrench, and a 6 "square drill bit. The kit also includes 24 pieces of fine square head screws, coarse square head screws, and wood screws This is a good, inexpensive pocket hole template that can be used for corner holes, flush or angled, it can also be used to make pocket holes for frame casings, leg splints, and frames, making it ideal for both on-site and in-field use workshop with integrated clamping system The maximum wood width for which this pocket hole template can be used is 1 1/2 inches.
Personally, I would avoid this jig. Sure, it works. But I'd spend the extra money and get a decent jig. You can see current availability of this jig here.
Now, even if you buy the best pocket hole jig you still need to know how to use it properly.
How to use a pocket hole jig
Even if you have the best tools available, if you don't know how to use them properly you won't get the best results that the tool can give you.
The first thing you need to keep in mind is that you have to make sure you're choosing the right screws.
Choosing the right screws
First of all, you will have to choose the length of screw that you need to use for your project.
This is determined by the thickness of the wood that you're joining. If you're using wood with two different thicknesses, you use the thinnest piece of wood as your guide to choose the right screw.
Here is a quick chart for you to reference.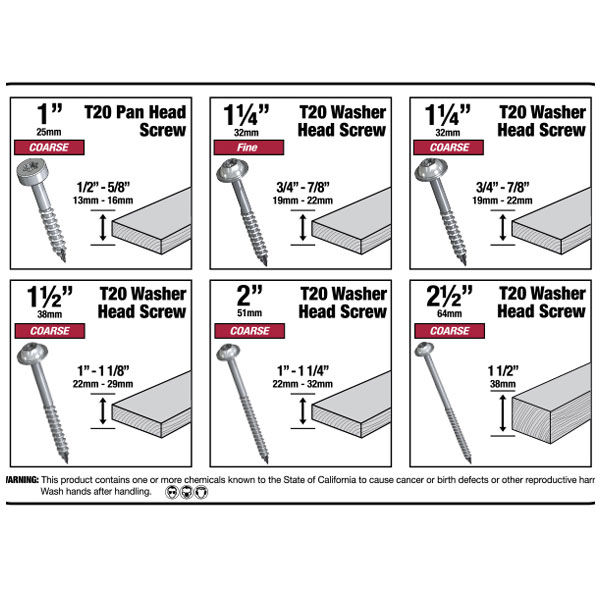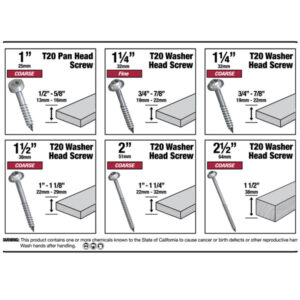 As for the screw itself, a coarse-thread pocket screw holds best in softer woods, such as pine or cedar. But for hardwoods you want to use fine thread screws.
Screw material for indoor and outdoor use
Whether your project is going to be placed outside or inside makes a big difference in the type of screws to use as well.
Zinc Coated Pocket Hole Screws: Typically the screw that comes in most pocket hole screw kits is a zinc coated screw. While zinc-coated screws are somewhat water resistant, they won't hold up well to constant rain. They will work great for any interior project or places with a little humidity like a bathroom. They may not be the best choice for an outside project. But they're your least expensive option as you can see here.
Coated Pocket Hole Screws: If you're working on an outside project like a porch or patio, these screws will help to keep everything together. They typically have 3 anti-corrosion layers that make them corrosion resistant in wet areas so your work doesn't come undone later. Look for a colored screw (like a decking screw), or look for Kreg's Blue-Kote screws.
NOTE: While I like the Milescraft jig the best, Kreg's screws are better to get as they use a regular Square Driver Bit. Milescraft screws use a special star shaped driver that ends up stripping very quickly. So unless you buy another special driver from them, the Milescraft screws end up being useless for you.
Stainless Steel Pocket Hole Screws: For any outdoor project, the best choice is always going to be stainless steel. It offers the best corrosion resistance available. But they come with a hefty price tag. For most applications, coated screws will be good enough for outdoor projects. You can see just how expensive they are here.
Design matters to avoid breakage
Even if you're using the correct screw and have a great jig, if you don't plan your project properly, you could end up wrecking it if you don't screw it together properly.
Basic Tips
Make sure the cuts for any joining surfaces are completely square. If they're off, you'll not be happy.
Mark the ugly faces. Use this face to drill your screws into and attach to. By doing this, the nicest face of the material will be shown. (You'd be surprised how easy it is to make this mistake if you don't mark the material – especially if you're rushing.)
Try to avoid screwing into the end grain. If screws are screwed into a piece of wood and the direction of the screw is in the same direction as the wood's grain, it won't hold as well. And it increases the chances of your wood splitting.
Use a high speed when drilling & clear the chips out as you go. Don't keep pushing to finish the hole. Sometimes it's best to drill part way, blow out the chips and then continue. It will save your drill bit.
Use glue in your joints. This will help keep your joints together if the wood expands or contracts due to temperature fluctuations.
Pocket Hole Plugs
Pocket hole plugs are a great way to finish off your project and cover up your screws.
Add a little wood glue, slide the plug in place and let it all dry.
Once it's dry, you can sand any extra glue off and you're finished.
Alternative to Pocket Holes
Sometimes you might not want to bother with pocket holes at all.
If that's the case, you're left with either screwing everything together normally or using another form of joinery like mortise and tenon or some other dowel system.
But pocket holes are extremely fast to produce, so most people use this as opposed to other forms of joinery like box joints, dovetails, or dowels.
Depending on your project, using a biscuit joiner might work well but it won't have the holding power of a screw if your project has any sort of vertical load on it.
So that concludes my quick overview of how to use a pocket hole jig.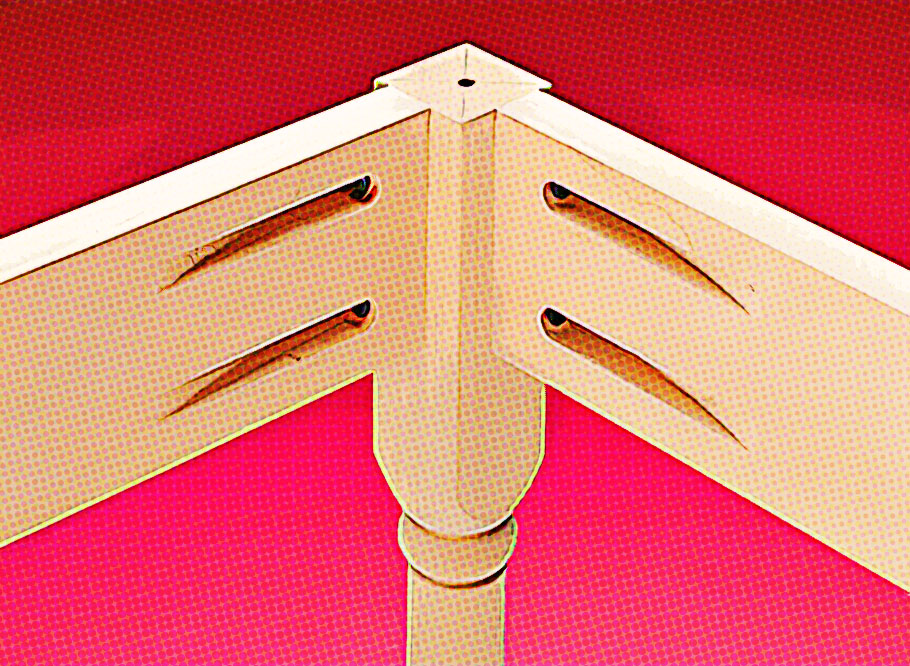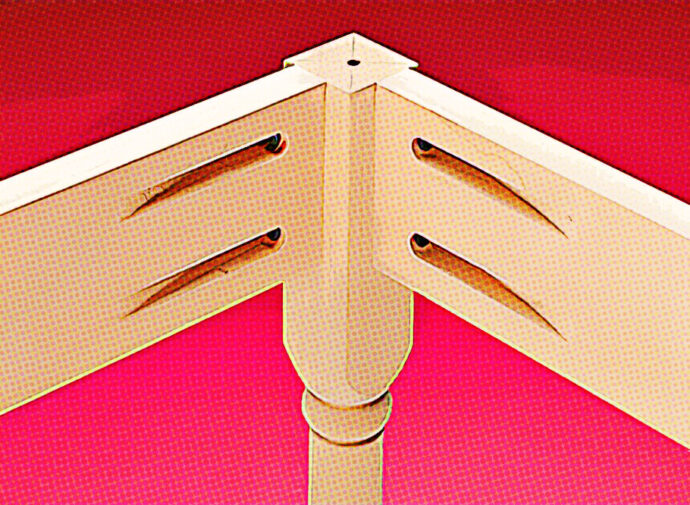 When people searched for the best pocket hole jig they were also interested in the following:
What is the best pocket hole jig for beginners?
The best pocket hole jig for beginners is Milescraft K4 Pocket Hole Jig System. It's a high-quality model that you can buy here on Amazon.
Purchasing this product means investing in the future of your projects, because not only does it have a lifetime warranty, but also features a heavy-duty aluminum clamp head that ensures low wear to both the upper and lower clamp teeth during assembly work.
Best pocket hole jig for cabinets
If you're going to be making a lot of cabinets and a lot of holes, I recommend you getting a pocket hole screw machine like the Kreg Foreman.
It's a high-quality, precision product that will last you many years.
It can do almost anything you need, with both pocket holes and regular ol' screw joinery methods available if desired. You don't want to go cheap on something that will be around your shop forever, so invest in the best quality one up front if you think you'll be using it often or professionally.
The best trend pocket hole jig
This pocket hole jig creates pocket holes in wood. Pocket holes are created by drilling angled holes into the side of a piece of wood, and then using a special screw to fasten the two pieces of wood together.
Pocket hole jigs are available in both manual and electric versions. Manual versions are less expensive, but require more skill to use. Electric versions are more expensive, but much easier to use.
Which pocket hole jig is the best?
The best pocket hole jig is the one that is most comfortable for you to use and that gives you the best results.
Some factors to consider when choosing a pocket hole jig include:
The size of the jig- You want a jig that is big enough to fit your workpiece comfortably.
The angle of the drill guide- You want a drill guide that allows you to easily make angled holes.
The type of screws it uses- Not all pocket hole jigs use the same type of screws. Make sure the screws are compatible with your project materials.
What is the best kreg pocket hole jig?
The 720 Pro is the best pocket hole jig, in my opinion.
I feel that of the Kreg tools, this one is the most versatile option if you're in between a production environment and one where you're doing a lot of projects.
For more on this one, you can see the specs here.
What is the best pocket hole jig kit?
There is no "one size fits all" answer to this question, as the best pocket hole jig kit for you will depend on your specific needs and budget.
That said, some of the most popular pocket hole jig kits include the Milescraft, Kreg or Rockler Pocket Hole Kit. These kits come with a variety of features, such as adjustable drill guides, clamps, and stop blocks, so be sure to choose one that will meet your specific needs.
How do I choose a pocket hole jig?
There are a few factors you'll want to consider when choosing a pocket hole jig:
Price (of course). How much are you willing to spend on a pocket hole jig?
Ease of use. Because if it's hard to use, you don't use it. Consider: How easy is it to use? Does it require any special tools or skills?
Versatility. Can the jig be used with different materials and thicknesses?
Durability. Will the jig hold up over time?
Why do woodworkers hate pocket holes?
Pocket holes are difficult to make disappear by sanding and they leave noticeable evidence of their existence on the outside side.
If you're an experienced woodworker, then you know how hard it can be to hide a pocket hole by painting or staining it.
Some avoid this altogether by going with a more complicated joint like a dovetail, box or dowel. By doing this, the joint itself becomes more of an artistic feature.
What is the best pocket hole jig for 2×4?
The Milescraft Pocket Hole Jig is the best for most people.
You can easily buy on line and it's really easy to use. It attaches easily to your drill, so you'll be quickly drilling holes in the right spot with minimal effort, time, and skill required!
What is the best alternative to kreg pocket hole jig?
For what it is worth, I think the milescraft lift is a wonderful alternative to the Kreg jig. It's remarkably easy to use and has good reviews.
In my experience, the magnet it has on the base (where you attach the clamp) is a game changer.
What is the best cheap pocket hole jig?
I find that a milescraft pocket hole jig is the best among the cheapest options.
There's no need to spend more money on a jig unless you're getting into more of a production setting. A basic set of fixtures with a clamp will do just as well, and still allow for projects like end table building, bed frames, desks and more– all which can still be built at home.
Whats stronger pocket holes or dowels?
Dowels are stronger than pocket holes.
But with that said, pocket screws are much faster and easier to use.
Why use Single Pocket-Hole Jigs?
Simply put: in case you need to get the jig into a tight spot.
With other double hole jigs they can be more difficult to fit into tight places. Which is why you may want to consider using a single hole version.